Would you like to know what will make you a more effective content writer? The answer would be the tools you need to manage, organize and analyze your content. The good news is that there are many free PEMAVOR tools for content writers that will help you create powerful content every day.
Content marketing is the fastest growing digital marketing field for businesses to generate leads, build relationships, and close sales. According to HubSpot, 82% of marketeers actively used content marketing in 2021. Moreover, more than 60% of marketers measured the success of their content marketing strategy by revenue in 2021. Therefore, it is also a big task for content writers to produce effective content.
If you're looking for the best tools to improve your content, you've come to the right place! With PEMAVOR, you can become a content writing ninja.
In this post, we'll introduce you to some of the best tools for content writers. We'll use examples to describe how these tools work and where they can be used. This collection of free tools contains everything you need to start writing your next content.
So, let's get started!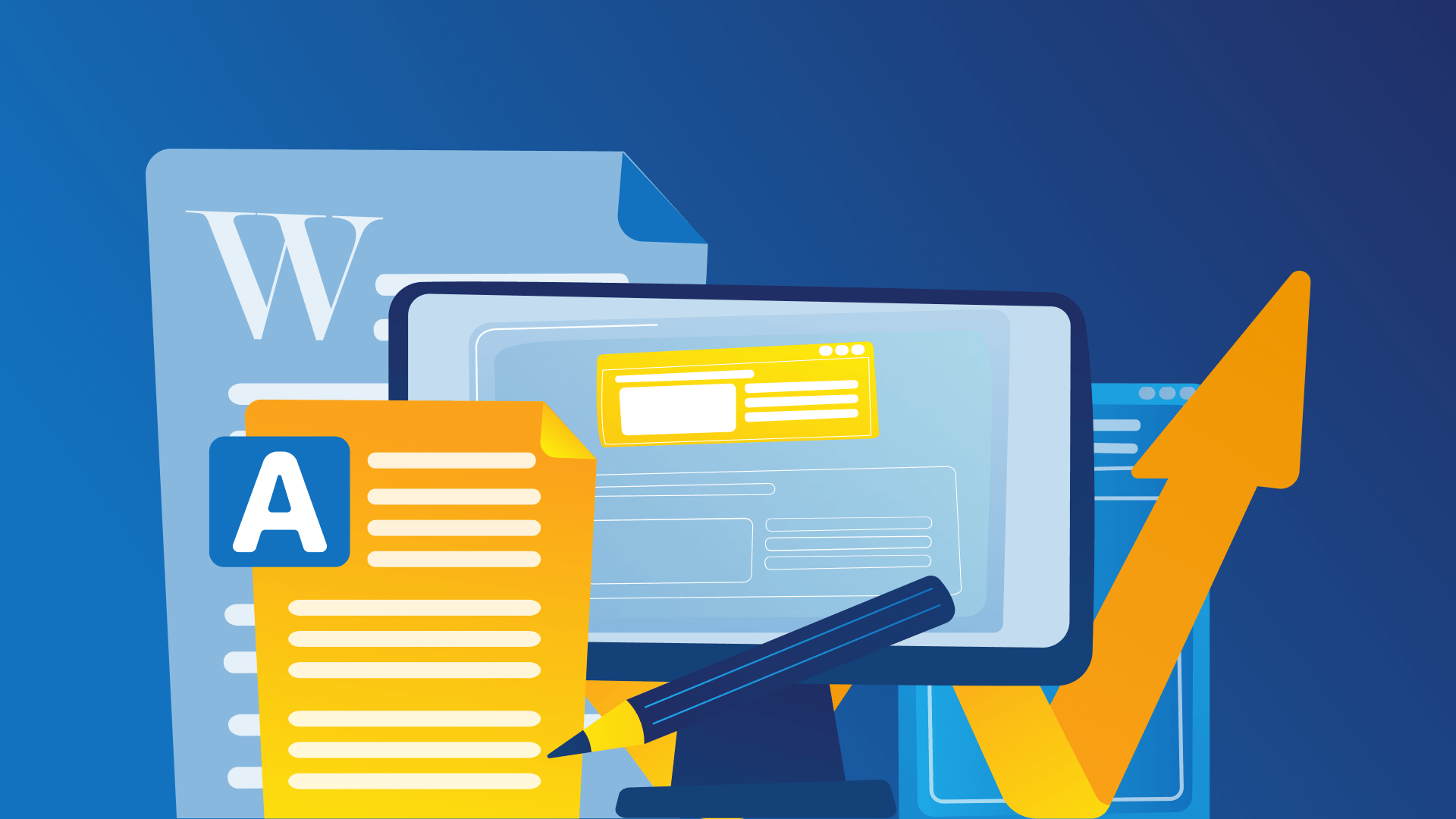 Let's assume that you want to write articles about the Netflix series 2022 to boost your stream blog, which also sells various popular gift items about actors and actresses.
Top Tools for Content Writers

Grouping your keywords will help you create your content strategy. This way, you can plan all the content for the next month (or even a few months) in a few minutes. Grouping keywords for SEO is important for creating posts like semantic and holistic central pages and blog posts.
Semantic and holistic content for SEO
Google favors holistic and semantic content. Now websites can be crawled based on their semantic context, topic authority, and holistic structure to provide the best user experience. Grouping keywords into clusters and using them strategically in a hub or on blog pages will ultimately lead to better organic traffic rankings.

Here's how it works: If you have a pre-made keyword list, you can use our tool directly. Otherwise, you can use tools to create a list on your topic. First, add your keyword data. Once you have your keywords listed as groups, adjust your grouping preferences. Finally, download the keyword groupings to create your content strategy. You can also set the minimum cluster size and the similarity threshold.
⚠️ In our example, we have 7 keyword groups, and each group has a title. Thus, you can create new articles at least for each group.

It's important to know your audience's search intent when creating content that meets their needs. Autocompleting is one of the ways to find out what users are looking for. Of course, searching for this data manually takes time. Instead, you can use our tool to save time. The tool tries to identify the user's intent by analyzing your seed keywords. So, when you're writing a blog article about your product, you can use the tool to get suggestions for your keywords. We analyze all the search queries received from Google Autosuggest. The most interesting words are those that appear multiple times in different seed keywords.

Here's how it works: Enter your seed keywords and choose your language, country and keyword source (web, YouTube, product, news). Then click "Extract Keywords." You can copy the results to the clipboard or download them as a CSV file.
⚠️ Long-tail keywords have lower search volume but higher click-through rates because they provide on-target answers to users' search intent. Consider including long-tail keywords in your content calendar. Besides, the data will help you create your H1 and H2 titles for your related content.

The purpose of Keyword Topic Builder is to provide the most competitive keywords in search results. It helps you create a list of keywords that match the search intent of your target audience. The tool displays data from Google, Bing, and YouTube analytics. Whether you're just a blogger or an entrepreneur, the tool helps you find out what keywords people are searching for related to your niche, service, or products.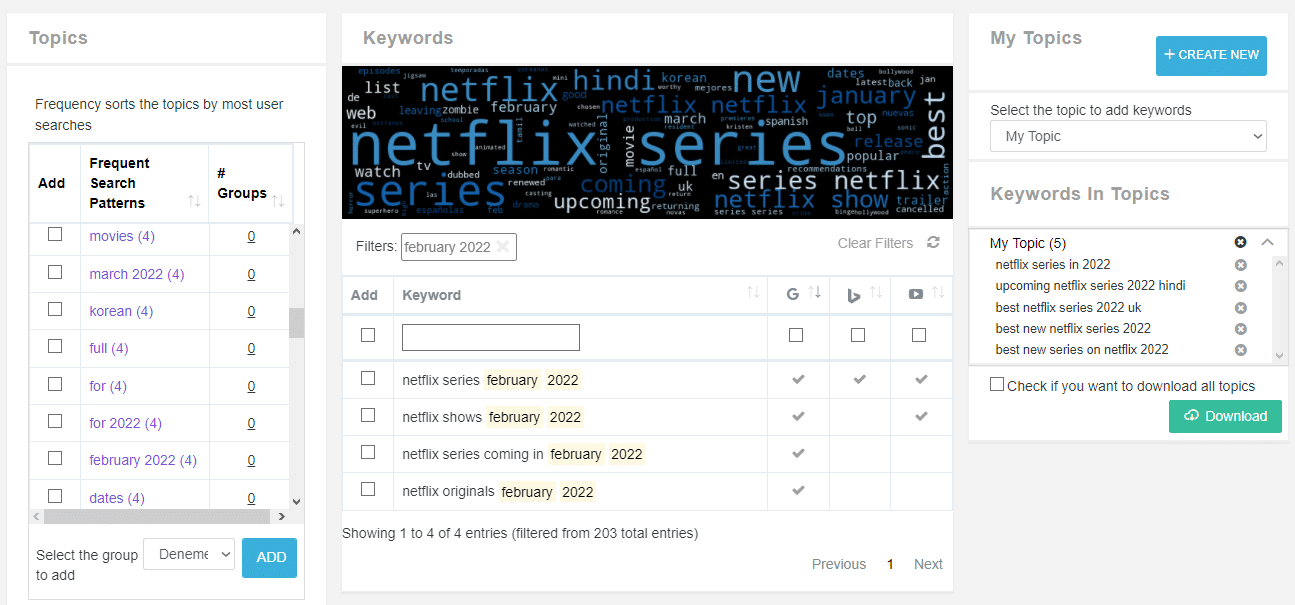 Here's how it works: After you open the tool, enter your keywords and choose English or German. And click on "Suggest Keywords." Then select your keywords to create a list or group your topic ideas. Once you've collected your keywords under your topic list, you can download them.
⚠️ Once you've created your keyword lists, you can develop your content strategy for the next month to drive traffic and sales. This will also help you to come up with new topic ideas.

Data visualization is an effective way to show the change in trends between selected date range on Google. With a race chart, you can bring the trend changes in any industry and on any topic. It can also be used for blog posts, websites, presentations and more of the same.
Here's how it works: Enter your time, type the keywords you want to compare, and choose your county. It's possible to check more than 5 keywords per request. Besides, you can customize your chart to your brand identity. At the end, you can embed the chart in your article to visualize your content.
⚠️ With a colorful chart, you can increase the attention for your article. Let's say you're writing about a few series on Netflix and you want to see their popularity as of a certain date. If you include an embed code in your article, it'll be easier for readers to understand what you're telling about their differences.

A competitor content analysis will help you reveal missing keywords. It helps you develop effective content strategies. Using a sitemap is a much faster way to scrap a website than scraping every single page. On the other hand, did you know that you can check the XML sitemap with Python?

Here's how it works: First, paste a sitemap link or paste two sitemap links to compare websites. After the analysis, you'll see the most important keywords on the results page under the N-Grams section with counts and frequencies.
⚠️ If you find content gaps by comparing with your competitor's website, write these topics to rank better in SEO.

This tool is especially useful for you if you're creating content related to a brand. If you know your potential customers' search intent for your products on Google, you can create content that grabs their attention. With Google's autocomplete feature, it gathers product-related words for you. You can enter 50 product names at once. What about the best feature of the tool? When you send a request to the auto-complete service, we narrow down the keyword suggestions for "review". Last but not least, you can also extract product keywords with Python.

Here's how it works: Paste the names of your product. and you'll get the results based on Google's auto-complete suggestions. Then you can download the CSV file to your computer. The keywords in the first column are your brand name. The other keywords in the second column are the most important product keywords for your brand.
⚠️ Let's say you're looking for popular topics or search intents to attract potential customers to your brand. With this tool, you can automatically display suggestions by typing your product names in the box. In the example above, you can create effective blog posts and ads by getting help from the results. You also won't see words like "review" in keyword suggestions for cleaner results.
Key Takeaways
PEMAVOR offers several free tools to improve your content marketing. With these tools, you can easily improve the content you create. If you have these tools at your disposal, you can undoubtedly speed up the entire writing process. Whether you're a beginner or a professional writer, these tools will save you a lot of time and improve your writing as well.
🔵 All the tools can help you find new topic ideas. Therefore, you can use them for your next blog post or advertising campaign.
🔵 They're free to use for everyone. Plus, you don't need to have any technical knowledge.
🔵 You can use them for all kinds of websites to improve your website's performance.