No one wants to pay for ads that don't perform. One way to avoid this is to improve your ads by using the most relevant keywords to your potential customers. With a decent keyword study, you not only get better ads performance, but you also save money by not investing on irrelevant search queries.
The simple goal of keyword research is to find out what your target audience is looking for. How can you effectively run a PPC campaign if you don't know which keywords to target? Keyword research is among the most important aspects of PPC.
In this post, we will go over keyword research for PPC. You'll learn all about the different methods, tips, and tricks used by SEO & PPC experts.
Choosing the right keyword strategy
Looking for random leads or customers won't help any venture in the long run. The important thing is to serve your niche with a structured strategy. This approach should also be applied for PPC efforts. Your PPC campaign needs to be based on a strategic path in order for you to get meaningful conversions.
Although Google has recently invested heavily in Natural Language Processing (NLP), Machine Learning (ML), and Artificial Intelligence (AI), PPC still relies highly on keyword research, combined with defining a right target audience.
Suppose you're only selling second hand bicycles, you don't have any new ones in your inventory, nor in your business strategy.
❌ Choosing the keyword "buy bicycles" in any type of match (broad, phrase, exact) would be a huge mistake for your business.
✅ Adding the keyword "buy second hand bicycles" in exact match is what you need.
✅ Or try adding "second hand bicycles" as phrase match.
As seen in above example, understanding your target audience is crucial. If you chose the keyword "buy bicycles," you would probably spend half of your advertising budget on meaningless clicks without conversions. Hypothetically, maybe %80 of people searching "buy bicycles" is looking for brand new ones, which you don't sell. A simple mistake can lead to thousands of dollars wasted.
In any type of industry, choosing the right keywords (also negative keywords) is the backbone of PPC strategies. Below, you'll see some critical aspects to consider when developing your keyword strategy for PPC.
Competitiveness: Decide whether you can compete with big fishes in the industry with your current resources. First, maybe go for long tail keywords to make use of your limited advertising budget (if so).
Empathy: Think deeply about what your customers might search, look for hints, have interviews if possible to understand what they're thinking so that you come up with keywords.
Data: Make use of PPC and keyword tools to analyze volumes and their difficulty to compete. Although customer psychology and behavior are important, don't rely highly on instincts, unleash the power of numbers! Look for case studies, conversions, keyword volumes, average keyword bidding prices, etc. and develop an internal strategy that may work for you best per your resources.
Courage: When you have enough resources, don't be afraid to compete on top keywords. If you're a big business with a huge advertising budget, there's no need to hide behind long tail keywords, it can be a real showtime with a right and comprehensive PPC strategy.
Negativation: Whether you're a big or small business, not every keyword may serve your best interests. Take a deep journey into the world of semantics and define what kind of visitors you don't want on your website. Negative keywords is a huge asset when it comes to PPC.
Information: Keep up with the recent developments from Google. The world is changing. Data Science, AI, Machine Learning, etc. have become the main agenda of search engines. Modify your overall strategy to suit the latest developments in the PPC and search industry.
After all, upon considering all these points, a thorough understanding of your business, keyword match types, target audience, and negative keywords, combined with a well defined advertising strategy and budget will eventually lead to success in Search Ads.
How to do keyword research
Searching for keywords is no longer easy as your target audience may not use the words you chose. Google uses search intent and implicit search queries when choosing which ads to serve. Therefore, you need to find out what users are actually searching for. If you're going to pay for keywords, you should know which ones will actually generate conversions for you. Without proper and deep keyword research, it's impossible to run an effective PPC campaign.
1. Start with brainstorming
Brainstorming provides you a starting point for keyword research. First, it's crucial to define your paid search target and users' search intent. After that, write down all the terms you think your target audience might be searching for. Also, look at the content of the page you will be linking to with your ads. This basic research gives advertisers several ideas. After you have written down the keywords, organize them in an Excel spreadsheet into categories such as generic keywords, related keywords, brand keywords, and competitor keywords.
Let suppose we search for a campaign to advertise Booking hotels. Our list might be like this:
| | | | |
| --- | --- | --- | --- |
| Brand Keywords | Competitor Keywords | Generic Keywords | Related Keywords |
| Booking.com | Airbnb rentals | hostel room rentals | rental tips |
| Booking hotels | Vrbo rentals | accommodation | hotel catering |
| Booking online | Homestay rentals | top hostels | hotel activities |
Remember that you should not choose broad keywords or specific phrases that no one will search for. You need to gather the most appropriate keywords for your business.
2. Analyze your competitors
When competitor ads start appearing above your organic listing, your own PPC strategy can boost your sales again and prevent you from losing your organic efforts (SEO) against your competitor's PPC efforts. For this reason, you can develop an effective strategy against your competitors by analyzing them with various tools. The results will show your competitors' PPC keywords, such as their PPC, ad positions, and more. Take note of the keywords you see here and consider them within your overall strategy.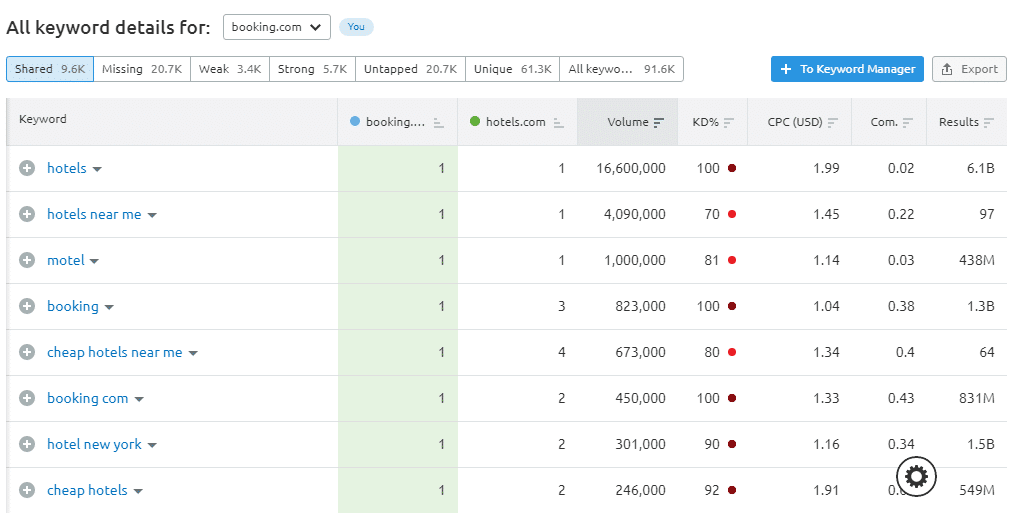 If your goal is driving more conversions and sales, you should spend most of your budget on commercial intent keywords, such as free shipping, cheap smartphones, buy now, discount.
3. Tools to expand your keyword research
There are many free and paid tools you can use to find keywords for your business. Start researching keywords using the various tools to find out which keywords are most searched on Google. Type your product, service, or some focus keywords into the search bar. Then click on it.
Google Keyword Planner:
It's the most commonly used free tool by users. You can also find out what Google thinks about the page by entering the URL of your landing page or website in Google Keyword Planner. You can use the same process for your competitors. After exporting your data, you'll have many keyword ideas.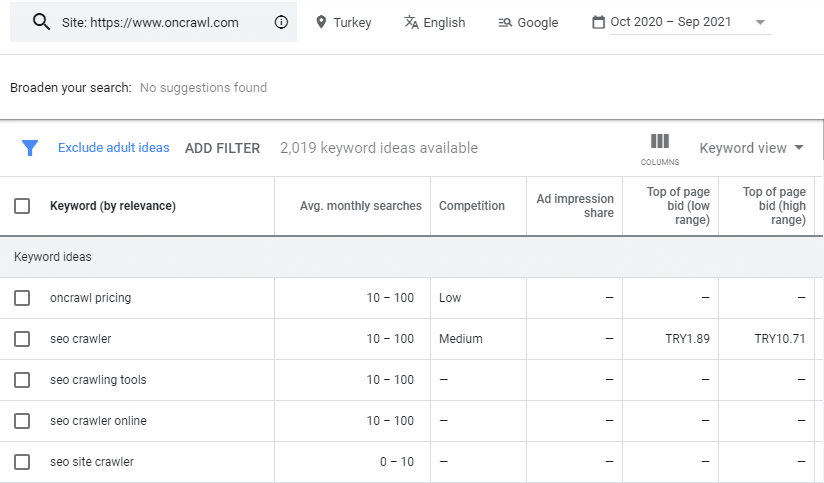 It's a free tool that can help you choose the right keywords for your business. Its sole purpose is to help marketeers analyze keyword phrases and research trending searches on the internet.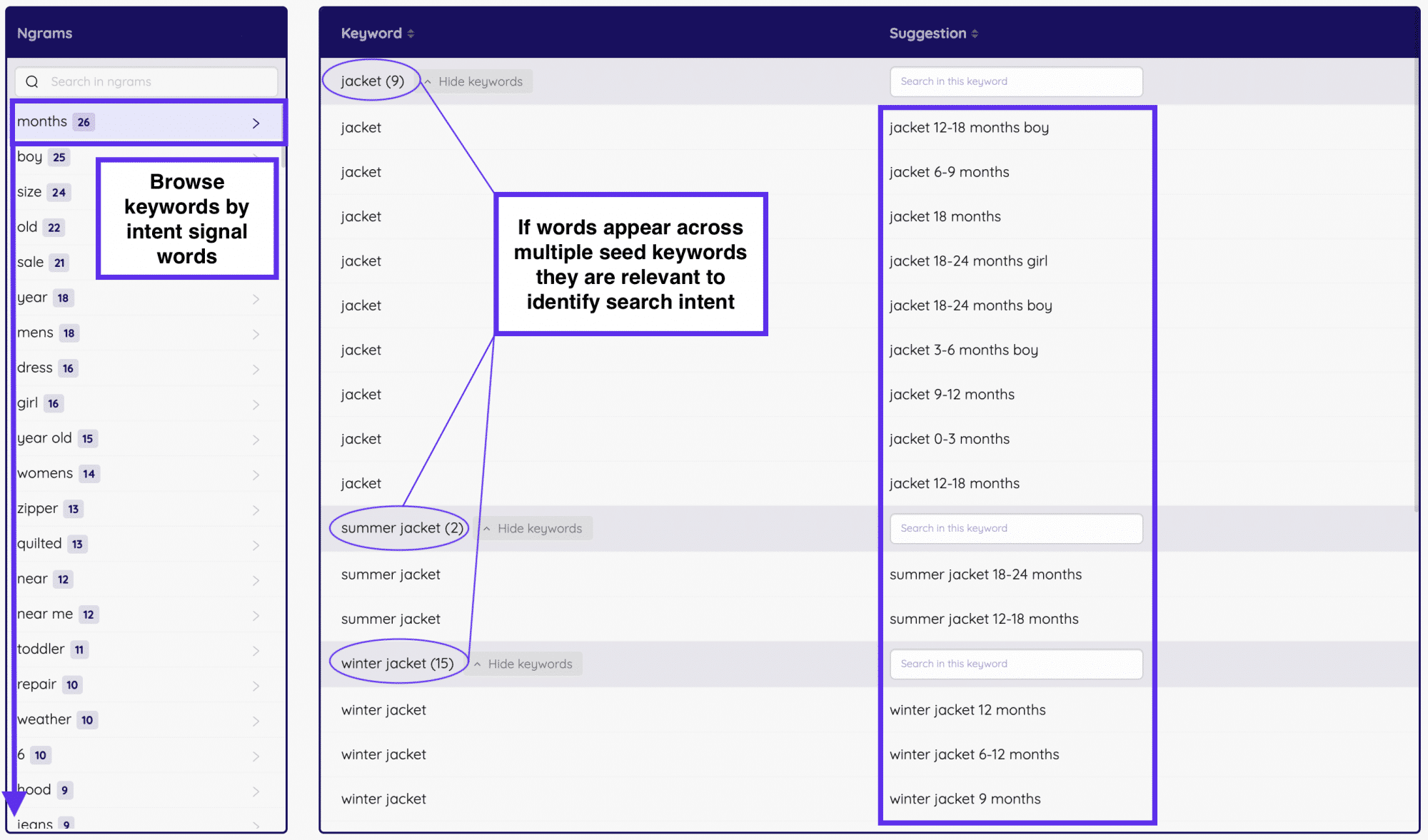 3. Analyze keywords and choose the right ones
Not every keyword you find may be useful or necessary. You can analyze them and narrow down your results. Many tools you use when searching for keywords also provide different results such as difficulty and search volume. Especially with premium accounts, you can get much more detailed results.
Choose keywords based on what kind of website or business you have.
For example, if you sell products or services, find keywords that have the most commercial intent. In addition, look for high search volumes with low difficulty.
By using different match types, you can further control the keywords that will cause your ad to appear on a search engine results page (SERP). Yet again, don't forget to use negative keywords in your PPC campaigns. This will protect your ads from irrelevant views and clicks.
Don't forget using negative keywords
Negative keywords can help you reduce your PPC costs by showing your ads only to the specific audience you want. This means you can exclude irrelevant keywords from your ads. Using negative keywords allows you to target your ads more accurately.
Let us say you sell furniture, but it's not "free" furniture, so "free" is also your keyword. Therefore, you don't want your ad to show up. "Free" is one of the negative keywords that you don't want to run an ad for, because if users search for "free", you know there's no business for you. Why would you pay for irrelevant search queries?

If you don't have enough experience, read our informative article on optimizing negative keywords.

Key takeaways
🔵 Understand what you need; traffic or sales?
🔵 Choose the right keyword strategy; understand your resources and create a logical and realistic strategy, based on your current stand.
🔵 Consider critical aspects as listed above: Competitiveness, empathy, data, courage, negativation, and information.
🔵 Make use of available tools on the market to deepen your competitor and keyword research, trust data!
🔵 Negative keywords is considerably important, optimize your advertising budget with well-targeted negative keywords.