Autocomplete Keyword Tool
Autocomplete Keyword Tool Results
Ngram Topics
Ngram name 21

Ngram name 21

Ngram name 21
Auto suggest tool
created by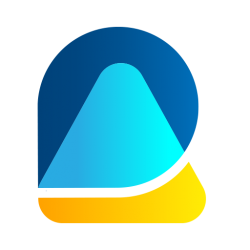 PEMAVOR
Which Autosuggest Keyword Sources are used?
The most common autocomplete source is keyword suggestions of Google search. But there's more than that! With our free scraper tool, you can select the autocomplete suggestions of YouTube, Google Shopping and Google News. If you want to get more insights in the different search intents of the users, you should have a look at all autocomplete sources. Our smart approach for showing search intent N-Grams will give you those insights right away.
Google Search Autosuggest
Google Search is our default keyword source and the best way to start your keyword research. You normally find all kinds of search intents in those queries: informational, commercial, navigational and transactional.
YouTube Autosuggest
For sure, users' search intents on YouTube are different. That is, you'll find less transactional but more informational search suggestions.
Google Products Autosuggest
Google Shopping keyword suggestions have commercial and transactional nature in terms of search intent. It's a great source when you're searching for product keywords in your PPC campaigns.
Google News Autosuggest
Want to add some hot trending aspects to your content? Google News Autosuggest is a great source to improve your content topics. Keyword suggestions will be outstanding compared to the other sources.
How to identify search intent signal words within keyword suggestions
We looked for an easy way to provide you with different search intents for your autosuggest results. We can't classify the different types of search intents – the focus is to extract signal words for providing you with an easy way to browse and understand huge keyword lists better.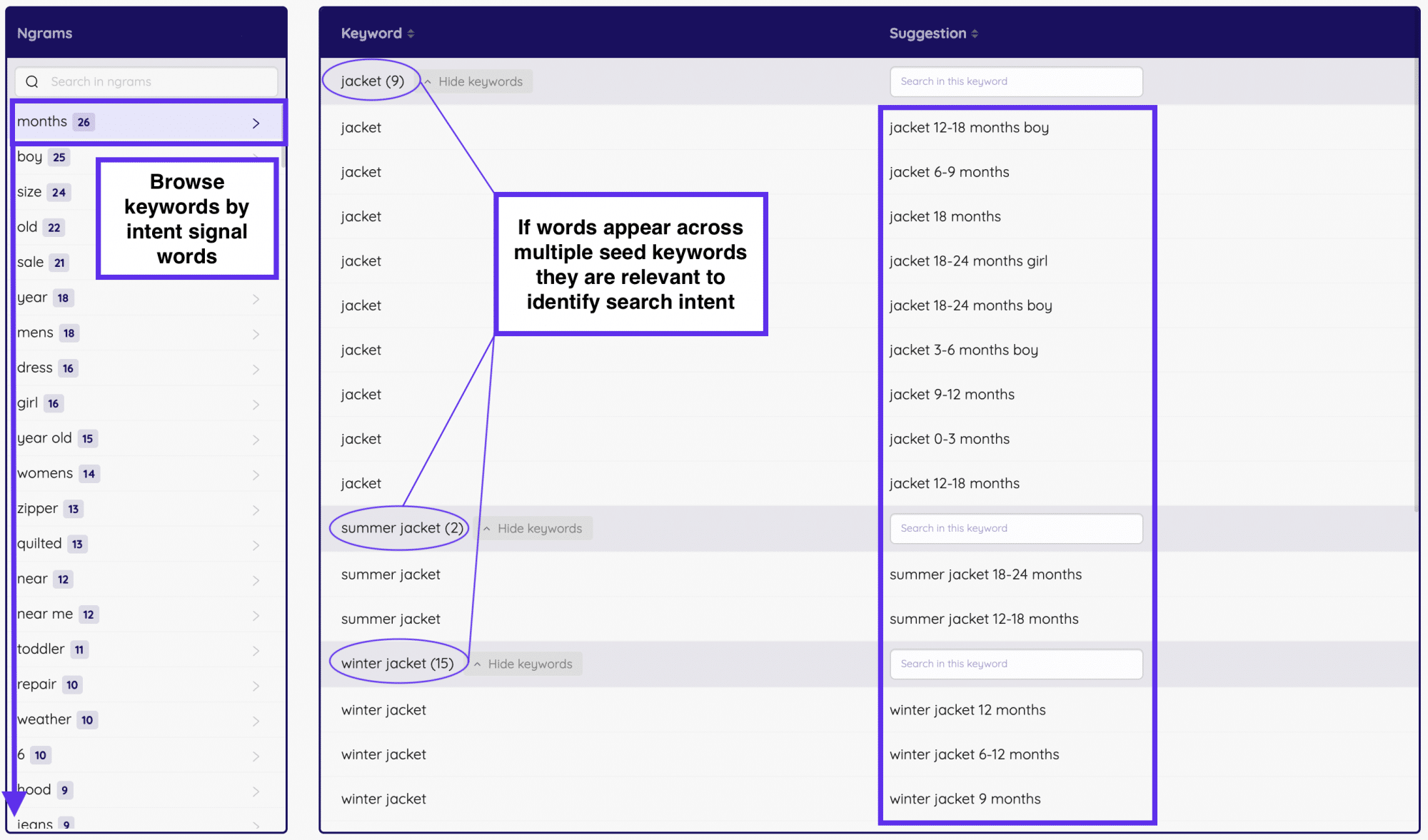 What is Google Autocomplete?
Google Autocomplete is a feature created to reduce the typing time of users. When a user types a text into the search engine, Google Autocomplete automatically completes it with query predictions. It's a way for Google to make some suggestions to you. These suggestions are mainly user-based and aren't tied to any particular brand or product. After typing a word, Google gives you predictions of what to do next. Autocomplete generates these predictions based on how you have defined keywords and your keyword usage.
To use Google Suggestions, you need to make sure you have entered all the proper keywords. Google Autocomplete only provides suitable predictions if you have entered all the relevant keywords you are looking for. If you want to buy something and enter the brand name as a search query, Google Autosuggest will give you some suggestions.
The whole concept behind Google's suggestion and autocomplete is to provide web users with accurate searches. So, we can filter out the irrelevant searches and maximize the relevance of the search term. If they type trending topics, then Google Trends can give them the information they need. However, if the search is irrelevant to your business, it's just a waste of your time.
Why to use the Autocomplete Keyword Tool
Want to get off on the right foot for SEO keyword planning? Try our free Autocomplete Keyword Tool. Once you've typed, you'll see a list of related keywords based on popularity. However, it also gives valuable ideas for high-quality long-tail keywords. In addition, it's also a great way to get to know users' search intent of users.
The Autocomplete Keyword Tool is a free, web-based keyword research tool that can help you select the right words for your niche, as well as finding related keywords. Its sole purpose is to provide marketeers to help them analyze keyword phrases and research trending searches on the internet.
The free Autocomplete Keyword Tool allows you to enter a targeted keyword phrase and find related searches for that phrase. You'll find several suggestions for related searches, which may include brand names, brands, product lines, product categories, and product features. Some suggested searches will be very competitive. Others will be milder and niche-oriented.
Sometimes you will also see keywords that have nothing to do with each other. Your goal should be to choose the most useful keywords. Once you have selected the appropriate keyword list, you'll be ready to start building your website and generating targeted traffic.
Find long tail keywords with Autocomplete tool
Searching for long-tail keywords is critical for creating an effective content strategy. They are unlikely to be highly competitive. Also, they're generally more descriptive and targeted to your niche or product than other long-tail keywords. That's why long-tail keywords are so helpful.
They're specific and relative, and they're the ones you'll need to pay the most attention to when optimizing for SEO. The reason is that if you don't target them effectively, you could easily spend more time than you need on your website (which is bad because you won't make any money). However, by targeting these keywords with the right optimization techniques, you can ensure to get the results you want. And the best way to do this is with the Google Autocomplete Keyword Tool.
The Google Autocomplete Keyword Tool is a powerful keyword-finding tool because it gives you all the information you need about long-tail keywords in seconds. Imagine finding highly targeted keywords that are highly relevant to your own business in just a few clicks of the mouse. It's not magic, but it's surprisingly effective. So are you interested in learning how you can target these keywords for maximum optimization? Google Autocomplete is one of the most beneficial keyword research tools, so you should use it for your business website.
How to use Autocomplete Keyword Tool
Google Autocomplete Tool is a highly effective way to find the best keyword ideas. So you can drive more traffic to your website, increase conversion rates and improve your profit. Here's how you can use Google Autocomplete Tool to improve the ranking of your website. It's a quick and easy way to create a list of keywords.
Firstly, enter a keyword in the search box and click the search button. Google Autosuggest helps you find keyword phrases that fit your topic.
After typing, the program generates predictions for other similar phrases on the search results page. You'll see various search queries, suggestions for synonyms, and related queries.
Check the keyword list and decide which ones to target later in your content. Once you've picked the relevant keywords for your business, use them in your website content.
How to use Google Autocomplete to your advantage
Using such a tool can not only help you find the right keywords but also improve your search engine ranking. For example, you can search for any keyword that includes "AI in digital marketing" and achieve efficient results to increase your reach. Google Autocomplete Tool allows you to select the best keyword for your potential clients.
Free Google Autocomplete Tool
The free Google Autocomplete Tool has made it easy for website owners to increase their search volume. You may use other marketing strategies such as pay-per-click, article submissions, and traditional SEO, but they may not be enough to achieve your goals. To make the most of your free Google Autocomplete Tool, you can integrate this innovative marketing strategy with your other search engine optimization tools. For example, you can also use it to perform keyword searches and find the right keywords that you can integrate into your website's content.
With the free Google Autocomplete Tool, you can easily do keyword searches. Just enter the required information and click the "Go" button. You may not be aware of this, but many webmasters use the Google Suggestion Tool to get optimal rankings for their pages. Many SEO professionals also find it useful in optimizing their websites. The best thing about the free Google Autocomplete Tool is that it can help you save a lot of time compared to tedious manual SEO tasks.
Why does Google offer Autocomplete?
Google Autocomplete is one of the great features that has helped Google revolutionize SEO. It's a simple but powerful feature. Google designed it to make it much easier to get good results from user's efforts. If you type search terms or phrases, Google predicts relevant search results for those particular words based on the information you provide. It also works as an intelligent personal assistant that predicts relevant search results for your all action, even if you're not actively searching for it.
Why does Google offer the Autocomplete Keywords Tool? They want to suggest to their visitors better search results. It makes it easier for users to achieve their goals by increasing their website and traffic. All this shows that Google's Autocomplete Keyword Tool aims to improve the quality of traffic.
Benefits of Google Autocomplete for SEO
Google Autocomplete is an online search tool to provide instant search results based on keywords. It's helpful for many SEO professionals and many other digital marketeers. Want to improve your SEO rankings? Keep reading this article to get some great ideas about the benefits of Google Autocomplete for SEO.
Before you start, make sure that your website contains the necessary information. If your website doesn't contain the right information, the search engine results will be inaccurate. For example, if you sell a product on your website, you must ensure that the product description is well written and that potential customers fully understand it. Google also suggests putting an image of the product to drive more traffic to your website.
Is your website ready? Great! Now, all you have to do is to include the keyword you need from Google for a search query. It'll be easier for visitors to reach your site. But how do you find the relevant keywords on the topic? Make sure that your keywords are relevant to the topic of your website so that Google does not make mistakes.
To sum up, Google Autocomplete Tool can help you improve your website's visibility. It's a great way to get the best SEO without spending money.
What is Google Autocomplete Policy?
Google Autocomplete is already one of Google's best features designed to make life easier for Internet users. However, Google removes some predictions that relate to all situations below to prevent inappropriate automatic predictions.
Violent or gory predictions
Sexually explicit, vulgar, or profane predictions
Hateful predictions against groups
Sensitive and disparaging terms associated with named individuals
Dangerous predictions
In addition, if you don't want bad predictions on Google, you can manage Google Autocomplete predictions. Submit them or make a legal request by filling out a form. These guidelines play a critical role in maintaining a helpful experience.
Common questions about Google Autocomplete
If you search with an API key-submitted application, you can only do 1,000 searches per hour. However, if you search with the Places JavaScript library, there is no limit. Furthermore, Google search is limited to 32 words
With the Google Autocomplete Keyword Tool, SMEs can easily reach their target market. Not only do they have an improved return on investment, but they also expand their business and drive new customers to their brand. Yes, Google is the most effective search engine. Sure, Google Autocomplete predictions differ in different countries, based on geographic area or region and language. That means you can collect the data by using Google Autocomplete from different countries and languages.
Google Autocomplete offers its users three different search options: first, you can simply type in a search term or keyword that would bring up a list of predictions. Secondly, you can specify a location or city to narrow the search results. Lastly, you can search for a specific product, service, company, or anything you want to find on Google. Go to Settings > Search Settings > Regional Settings. Then select your targeting country. With the regional settings, you'll see localized search queries.
Google Autocomplete is an online search tool that provides keyword suggestions. It searches the web for terms and allows you to see predictions based on frequency, relevance, competition, and more. By searching for specific keywords, you can find other relevant keywords thanks to Google Autocomplete.
Google Autocomplete works by estimating your target audience and finding out which terms they could enter to search for an online product or service. Google analyzes the search history and compares all the options that lead to Google predictions. These predictions are the key to generating traffic for your website. It also suggests various keyword combinations that can help you increase search volume.
Google's predictions point to more relevant searches, so it's better for your SEO efforts if you select the most relevant combinations. Google's Autocomplete feature analyzes the search history by comparing the target audience with the suggested searches. The Autocomplete module uses Google's Webmaster Tools to analyze the links and keywords used by the Google Search Bar. If you select the most relevant combination, it'll increase the possibility of getting more targeted traffic for your website.
Google Search Marketing is vital if you want to increase your online presence and increase your business revenue. There are many more SEO tools available, but Google Autocomplete, Google Keyword Tool, and Google Webmaster Tools are the best. You should also consider using other great content marketing tools such as Google Insights, Google Analytics, and Google Webmaster Tools to help you develop more effective and efficient business strategies for your business.
Do you have any questions about Google Autocomplete? Don't worry! We have answers to many of your questions. Always feel free to contact us.
Try PEMAVOR's Free Autocomplete Keyword Tool
We hope this comprehensive article can help you find better solutions for your content marketing strategy. Also, try our free Autocomplete Keyword Tool to reduce inappropriate predictions and find relevant predictions. It's super easy to use without complicated knowledge. We're sure, you'll be pretty amazed when you realize how little effort you need.