Click and type or paste your keywords
Use Cases for Keyword Grouping in SEO and PPC
SEO: Group Keywords from Google Search Console
What are the winning or loosing Keyword Topics of your website? If you have thousands of keywords you can't easily answer that question. Looking on single queries will not tell you the full story. You can easily export your Search Terms out of Google Search Console together with KPIs like Impression or Clicks and paste them to our free keyword grouper. You will not only get keywords groups, furthermore all KPIs are aggregated for each keyword cluster.
Benefits of Grouping Keywords in GSC:
Organize and Structure your own Search term data into Keyword Topics to create additional content for your website. I bet there will be some additional subtopics that was not covered yet on your website.
Set internal links based on Keyword Clustering results. Set semantic relations of main topic and various sub topic content pages.
Rethink how you set Priorities for your SEO Efforts: Don't look at single keywords! Instead the sum of all Impressions and Clicks for the full keyword topic is important to get the right focus. Our keyword grouper can deal with KPIs for each keyword cluster!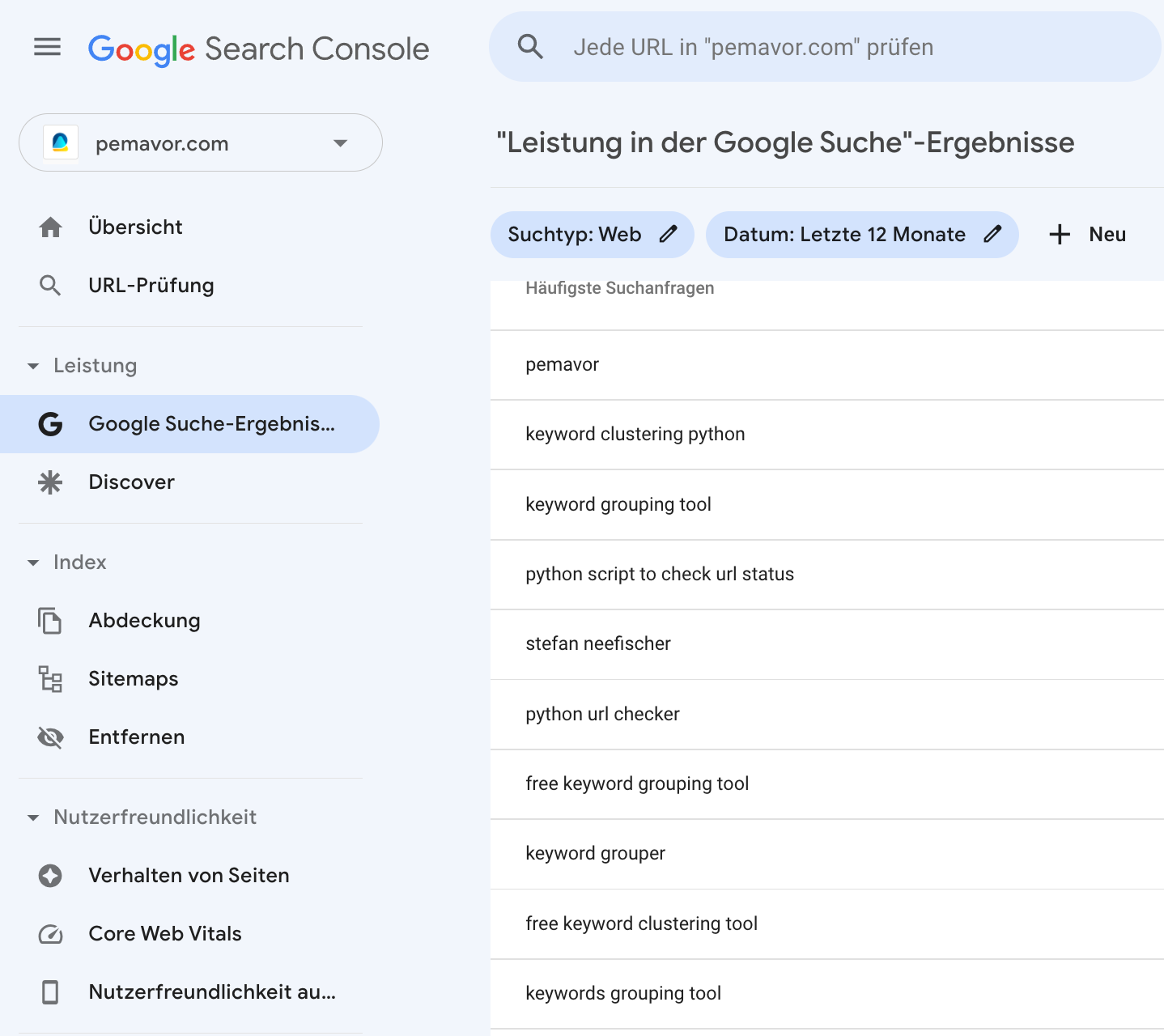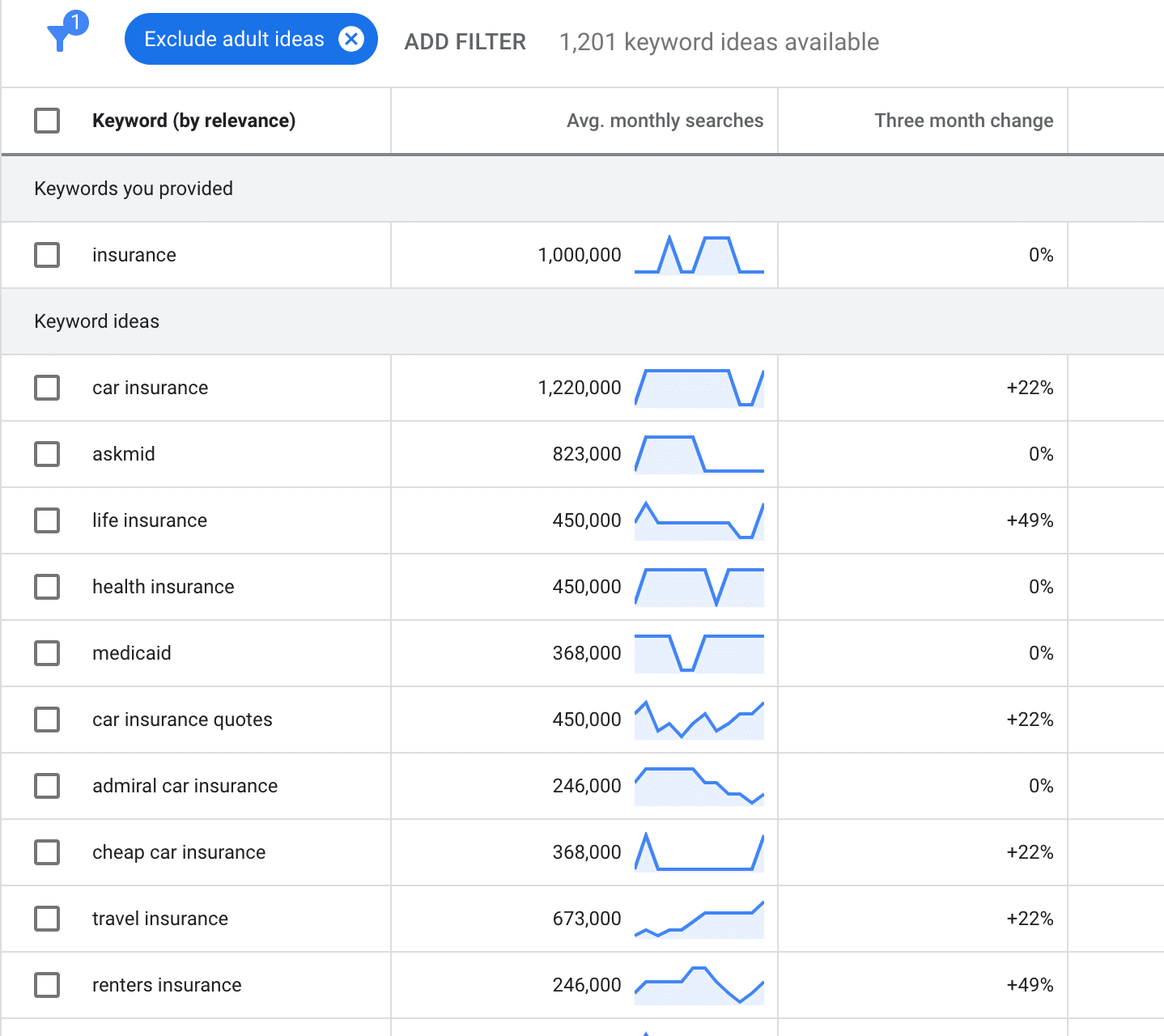 SEO/PPC: Group Keywords from Other Keyword Tools
There are many Tools out there to get keywords next to some KPIs like search volume our competition metrics. It is easy to get lost when you have thousands of keywords within those tools. Where to start if you have to define a good content strategy based on such a big keyword list?
The Pemavor Keyword Grouper works easily with all other Keyword Tools. Just paste your Keywords in combination with some metric columns to our Tool. Google Keyword Planner is a great free way to start. Of course you can also use the data out of your paid tools like Semrush, Ahrefs or Moz.
Create Keyword Clusters with our Tool now. When you are starting content creation from scratch this is a great way to understand how your topics can be organized. Derive our table of contents based on the keywords groups the people are searching for!
Export your cluster results as CSV to share with your content creation team.
How To Use The Keyword Grouping Tool
1) Paste your keyword data

Add up to 50,000 keywords to your favorite keyword source. You can use free sources like the Google Keyword Planner, Google Trends or Ubersuggest. However, you can also use paid keyword tools like Moz, Semrush or Ahrefs. Using your Google Ads search terms is also a good keyword source. If you add metric columns to your queries, our tool will make the aggregations for your keyword groups.
2) Customize your grouping preferences
Use cases are different. You have the possibility to fine tune the keyword clustering results with two parameters. By setting the minimum cluster size, you avoid groups of keywords that contain too few keywords for your liking. The second parameter is the keyword group granularity. If you put the slider to the most right position, your keyword groups will be smaller and more granular.
3) Download keyword groupings
Depending on the size of your keyword list, it'll normally take seconds before downloading the result. The generated CSV file will contain one column with the keyword group ID and another column with the concatenated raw queries. If you provide additional metrics like keyword search volume or a calculated keyword value for your business, you'll also find the aggregated numbers per keyword group in your file.
Why Should You Use Grouping Techniques In Your Keyword Research?
How Does The Keyword Grouping Logic Work?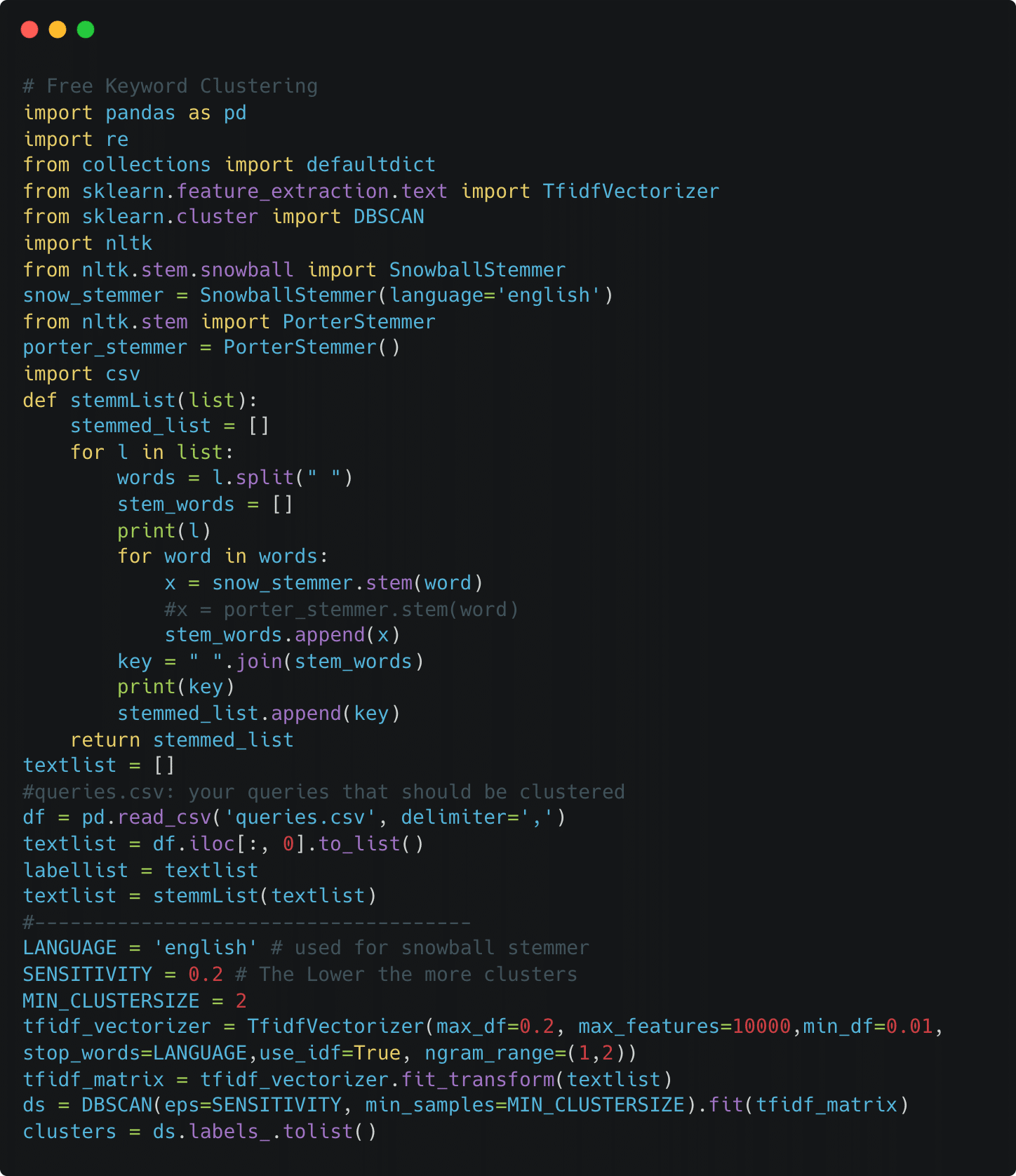 Preprocessing of keywords
First, the keywords are transformed to lowercase. Every word within the complete search query is getting stemmed to its root form. To use cluster algorithms, every query is transformed into a vector representation. If you're looking for ways to visualize your clusters, Python also has to plot libraries or modules that are creating nice-looking word clouds in just some lines of code.
Weighting the terms
In your free keyword grouping tool, we're using TF-IDF weightings for every word in the vector space. There are different approaches that even go further. For example, you can use word2vec embeddings to cluster, even on their semantic meaning. It works great if you build a custom model for all of your keywords.
Running cluster algorithms
There's also more than one way to do keyword clustering. K-means is a well-known clustering algorithm that can also be used on our keyword vectors. We're using DBSCAN in our tool, where the number of keyword groups is found by the algorithm.
You find more about keyword grouping in Python in this post including a running Script. You will find detailed information about the concept that is used for the keyword clustering.
Next Level Approaches For Keyword Grouping
Maybe our free keyword clustering tool offers everything you need, then stop reading at that point.
If you want to start coding to build the perfect fitting solution for your business, then you'll find some nice approaches you can have a look at. Python is a great programming language for those kinds of tasks. It'll enable you to build your own SEO tools.