YouTube is undoubtedly the most popular video platform in the world. Its logic is quite similar to Google Search when a user looks for results, but they get video recommendations rather then indexed quality pages. Now that even more and more people are using YouTube and looking for different types of media, extending your target segment has become essential to reach success in YouTube.
As a YouTube contributor, you may wonder how to target more people. In this post, I'm going to show how to scrape YouTube Autocomplete so that you can reach a larger target segment for your videos.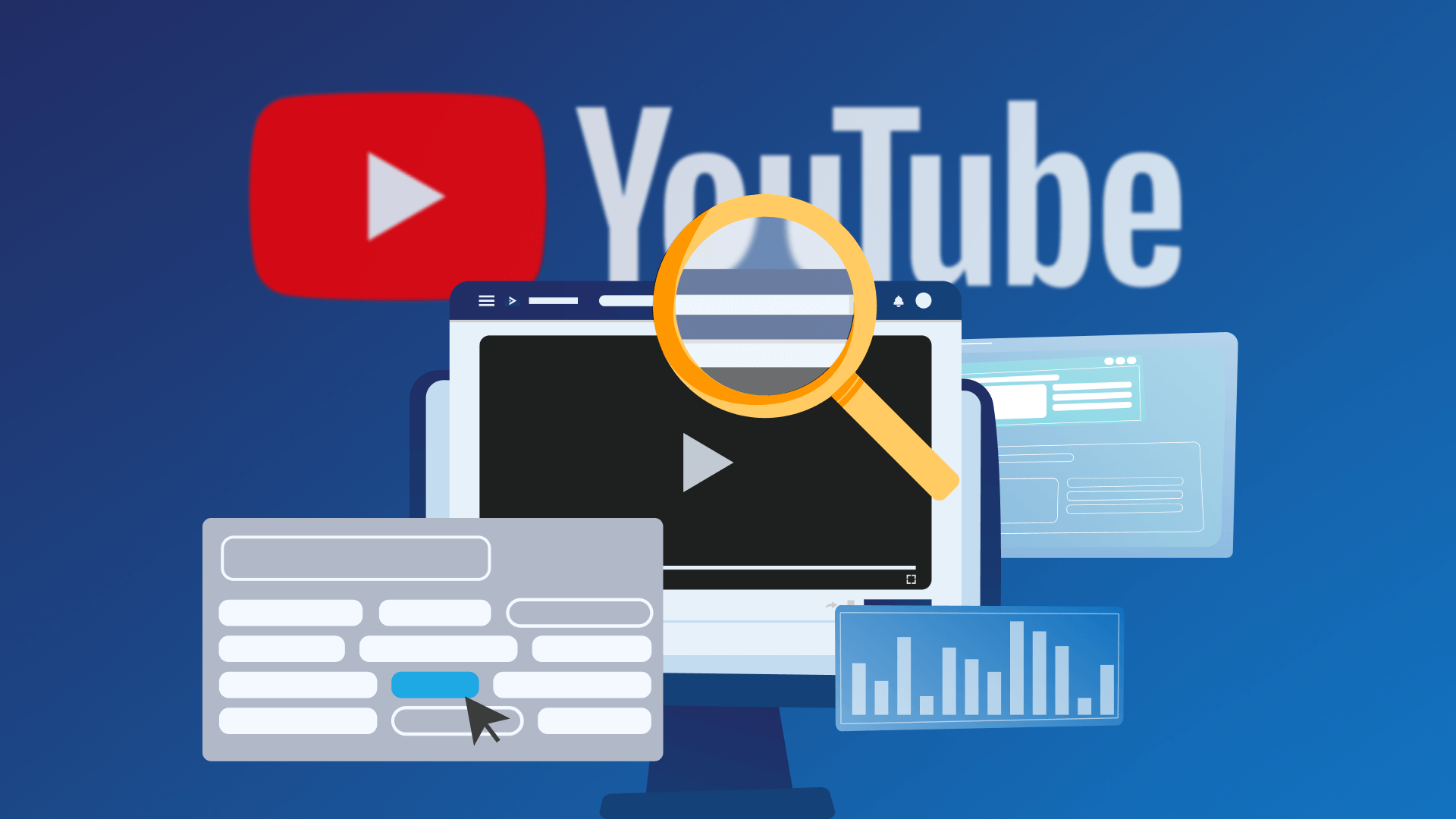 Step 1: Understanding YouTube autocomplete
When you've entered a search term on YouTube search bar, you're most likely to get a drop-down list of related keywords to your search. This happens both on mobile and browser version of the video platform and the logic is quite similar to Google Autocomplete.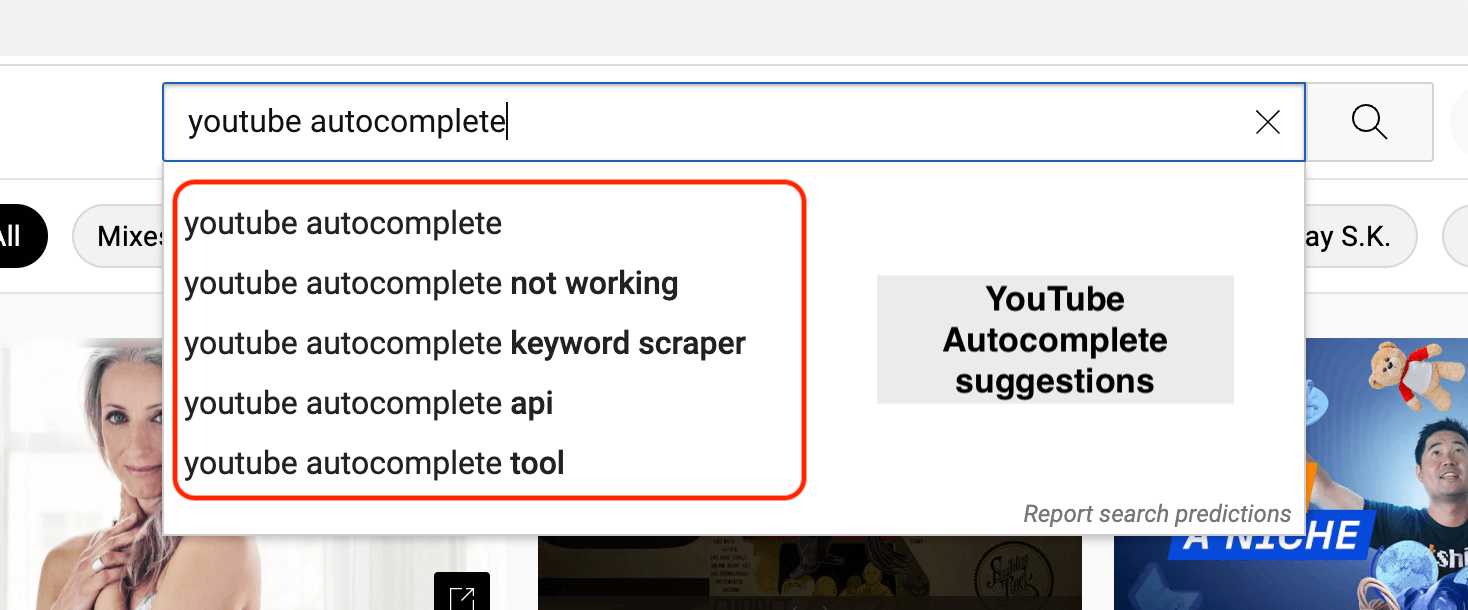 With YouTube autocomplete function, you can grasp the search intent of your target segment. Although this YouTube function doesn't provide data like search volume, expected clicks, or competition, you can still analyze the N-grams in your YouTube Autocomplete keyword list and get an overall insight into niche.
There are many paid tools available to look for search data on YouTube keywords like Ahrefs, Semrush, or YouTube Analytics on your account. If you want a free solution to scrape the YouTube Autocomplete, have a look at our Free Autocomplete Tool.
Step 2: Introducing our Autocomplete Keyword Tool
As performance marketing experts, we aim to provide the utmost value to our clients. We're also aware that digital marketing is in the dire need of automation and practical solutions, so we often provide free tools that help you automate your mundane tasks.
Autocomplete Keyword Tool
Here is an overview of our free Autocomplete Keyword Tool, it's pretty easy to use it. Simply enter your keywords, select language, country and keyword source, and click on "Extract Keywords."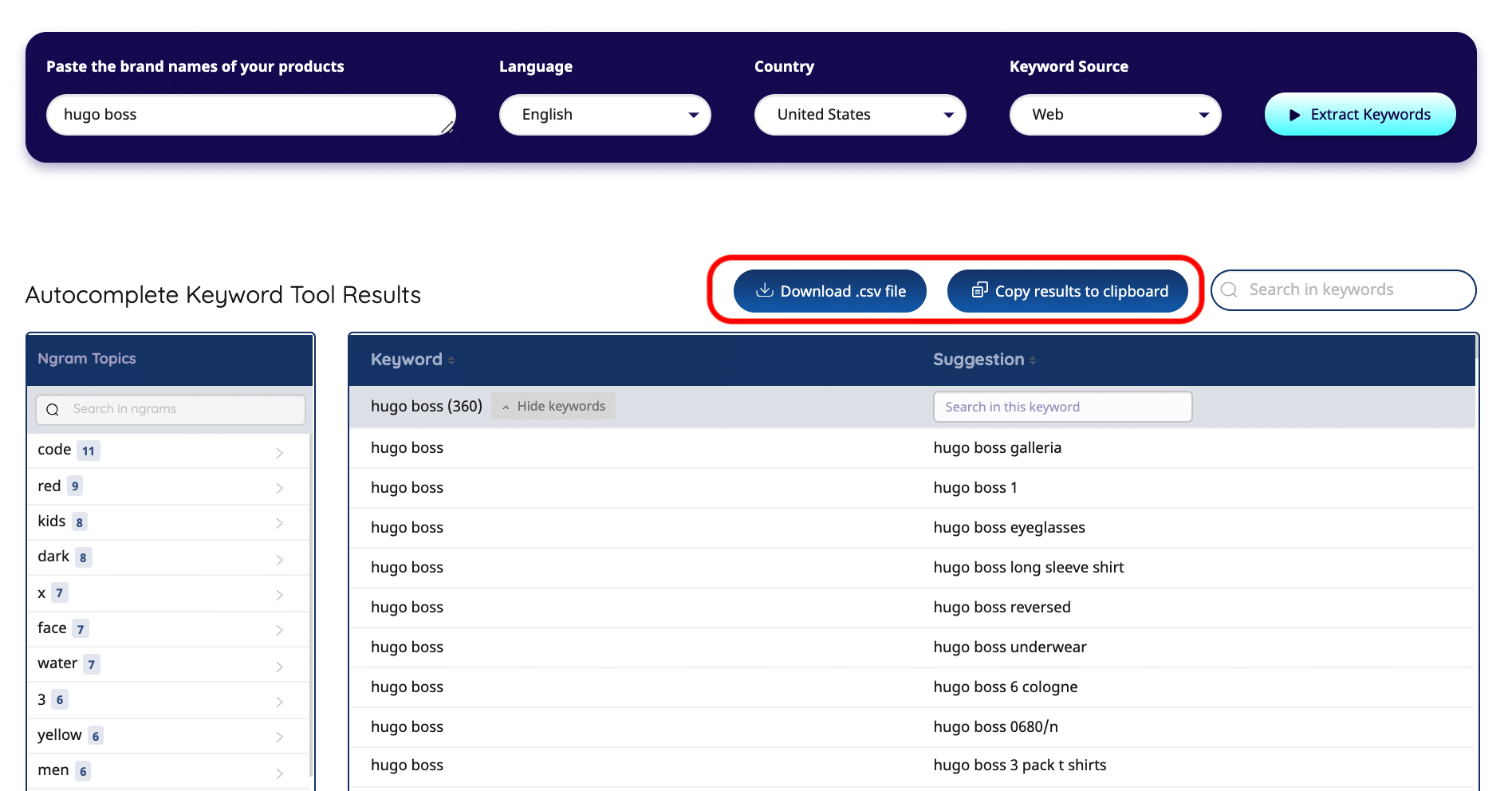 In the following steps, I'm going to show you how to use our free tool in detail.
Step 3: Defining seed keywords for the Autocomplete Tool
In order to get the best of the tool and relevant YouTube autocomplete suggestions, it's critical to define a good set of seed keywords. They define the extent of Autocomplete suggestions.
Say you're creating YouTube content on "how to repair an iPhone 11." You defined your seed keywords as:
repair iphone 11
iphone repair
iphone 11 repair
broken iphone
After you've found your seed keywords, it's time to type them on the top-left bar of the tool, as shown below.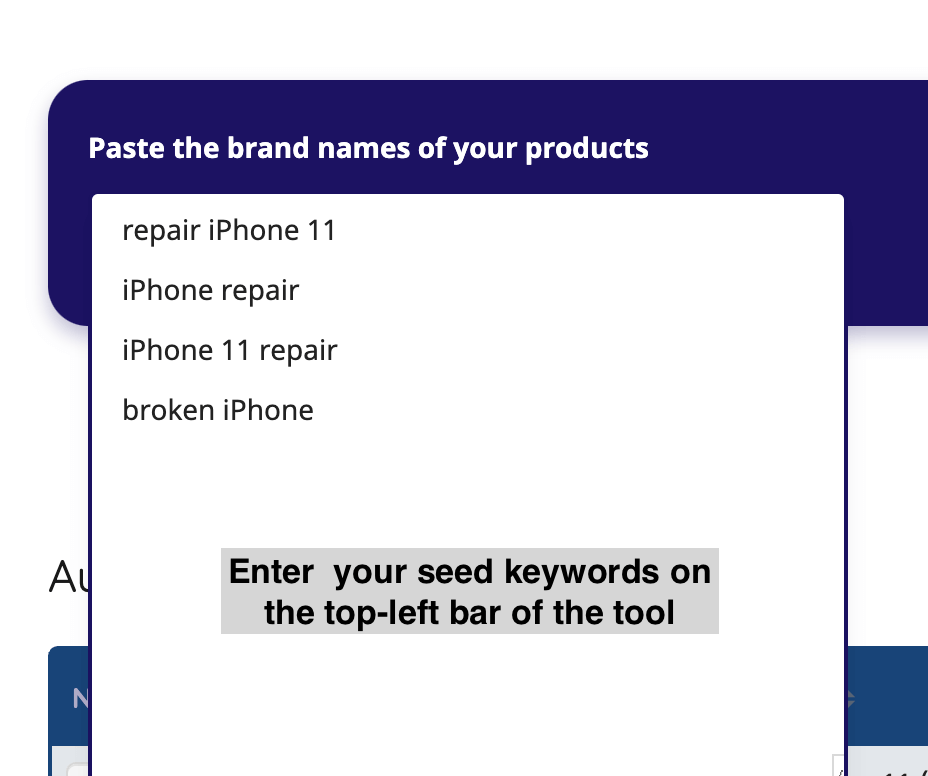 Ideally, your seed keywords shouldn't be more than two words long. Autocomplete keywords are generally long-tail, so selecting a broader seed keywords will lead to more precise and better Autocomplete suggestions.
Step 4: Choosing the tool settings
Now that you defined and entered your seed keywords, it's time to set the tool according to your needs. As you see in below screenshot, you can select "Language, Country, and Keyword Source."
At this step, don't forget to change the Keyword Source to Youtube. Otherwise, you may mistakenly get suggestions from Google Search, News, and Products.

Step 5: Getting your YouTube autocomplete keywords
After you set the tool, click on the "Extract Keywords" button on the top-right. Now, you'll see autocomplete keyword suggestions for YouTube, as seen below.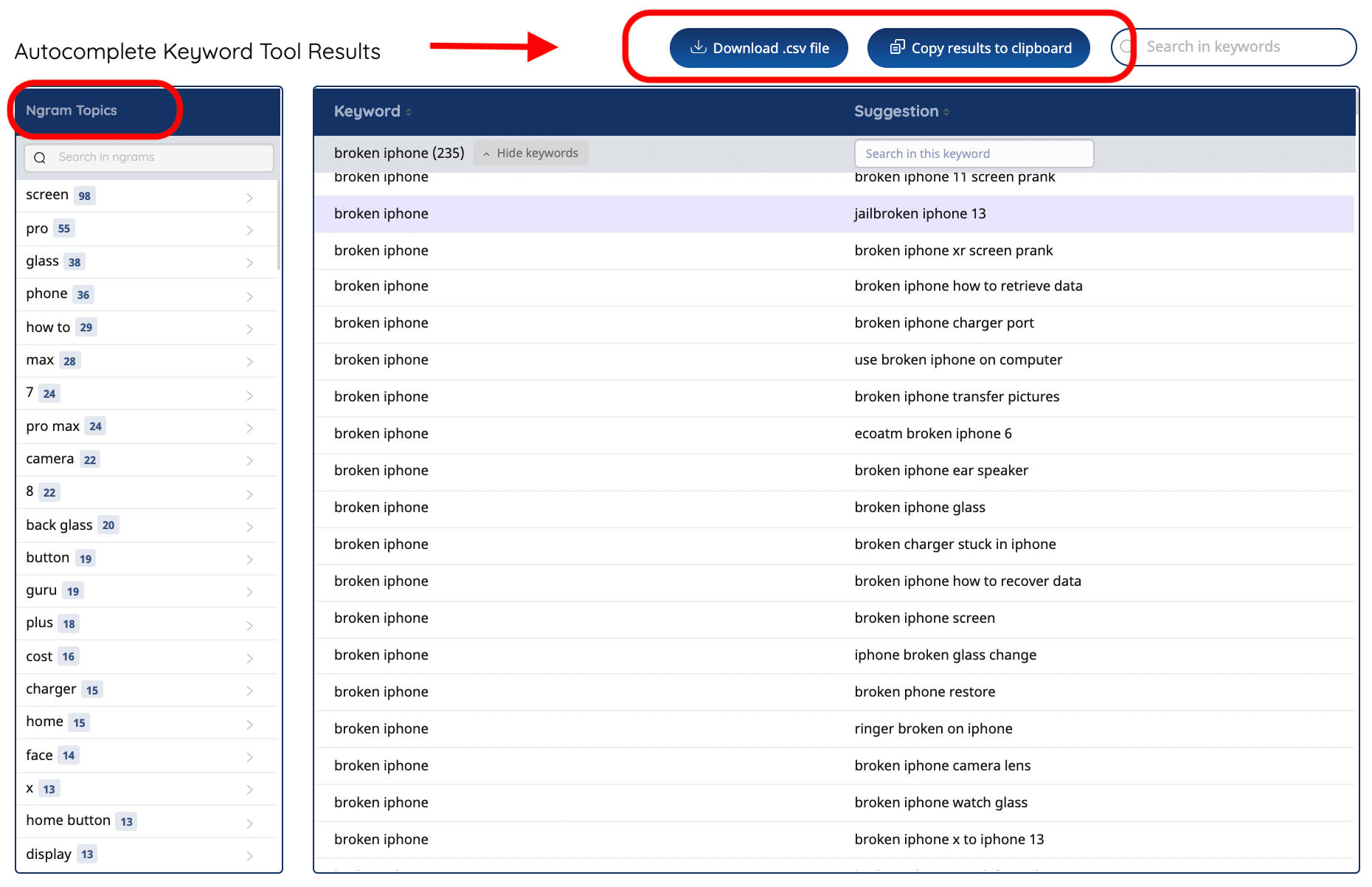 On the left side of the results sheet, you'll see "N-Gram Topics." This is the overall N-gram count of all the keywords suggested by the Autocomplete Keyword Tool. When you simply want to count the N-grams of already existing keyword lists, feel free to have a look at our free Keyword N-Gram Analyzer.
You have now two option to fetch keywords. You can either "Copy results to clipboard," or "Download as .csv file." When you download as csv. file and open in numbers, you'll see a drop-down list as shown below.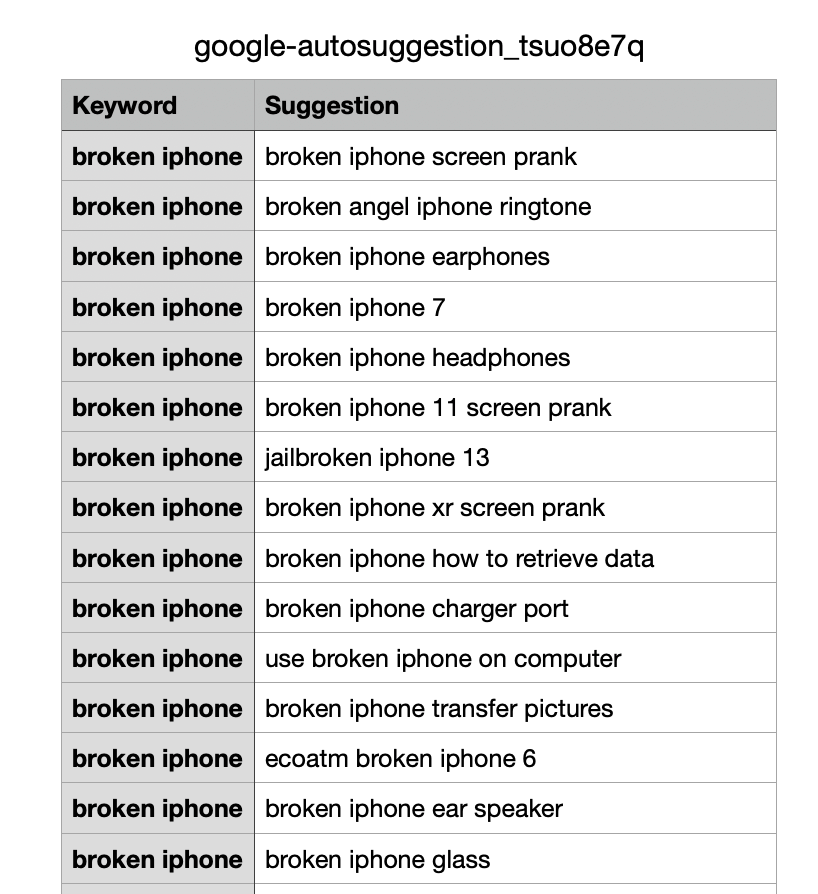 Key takeaways
Define your seed keywords, they need to be general and cover the search intent.
Set the tool according to your needs (country, language, source YouTube etc.)
Get your Youtube Autocomplete results
Ideally, consider the N-Grams of the topic to create an effective video title.