While popular SEO tools like SEMrush and Ahrefs offer powerful features, its detailed interface can be complex and costly for small businesses and freelance content writers. Like that for you?
Even if SEO isn't your expertise, you may want to use such tools to feed your content regarding SEO. Besides, efficient SEO research can give you insight beyond which words to use in your content. It may open a door to understanding your target audience.
How to use PEMAVOR's free tools
Picture you're a small scale enterprise consulting brands about account-based marketing. And you want to increase your brand awareness. Because, sure, you need more customers, more conversions, etc.
Then, you decided to build a productive content strategy to rank on Google:
to show your expertise.
to prove our service quality.
to grab potential customers' attention.
However, you have a problem. Leading SEO tools are expensive for you. Is this the end of the story? Of course not.
PEMAVOR produces free tools for marketeers, content writers, and enterprises. With our user-friendly solutions, you can have new opportunities for your growth.
This article can be your ticket to improving your success. Let's dive into how you can use our tools when building a content strategy.
Autocomplete Keyword Tool
It's a handy tool that can help you discover long-tail keywords. You can have more chance to rank on Google with long-tail keywords instead of broad search terms. The tool identifies popular search terms and trends. Plus, it supports variable sources such as Google Web, Shopping, News, and YouTube.
Open the tool and type in your seed keyword.
Choose your country, language, and keyword source.

Click on "Extract Keywords".
Download .CVS file or copy the results.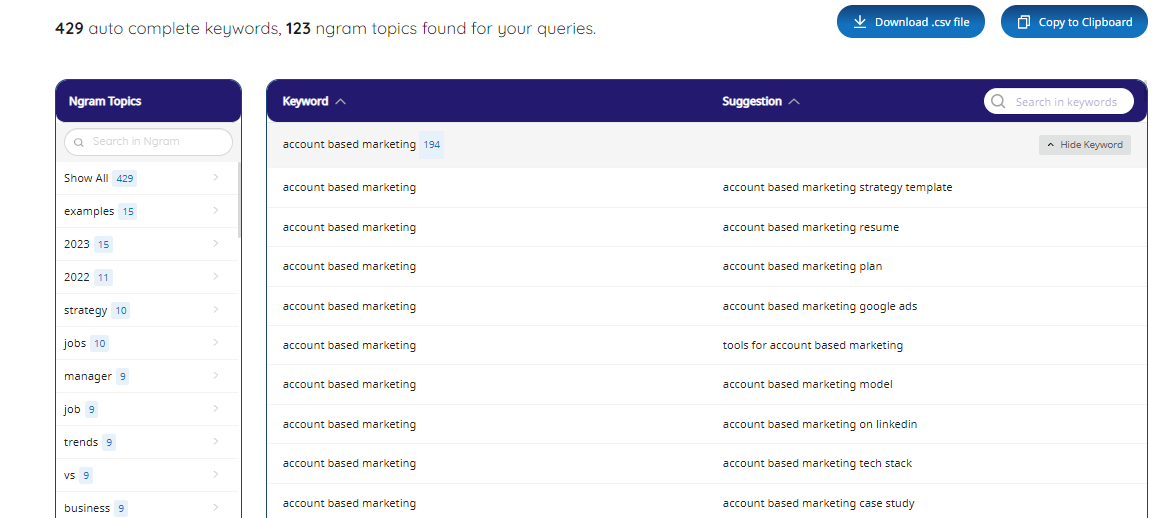 We see "vs" is one of the most used in the long-tail keywords. So, we extended it to see more about it. These are popular topics about account-based marketing. Ok. We can consider writing about it.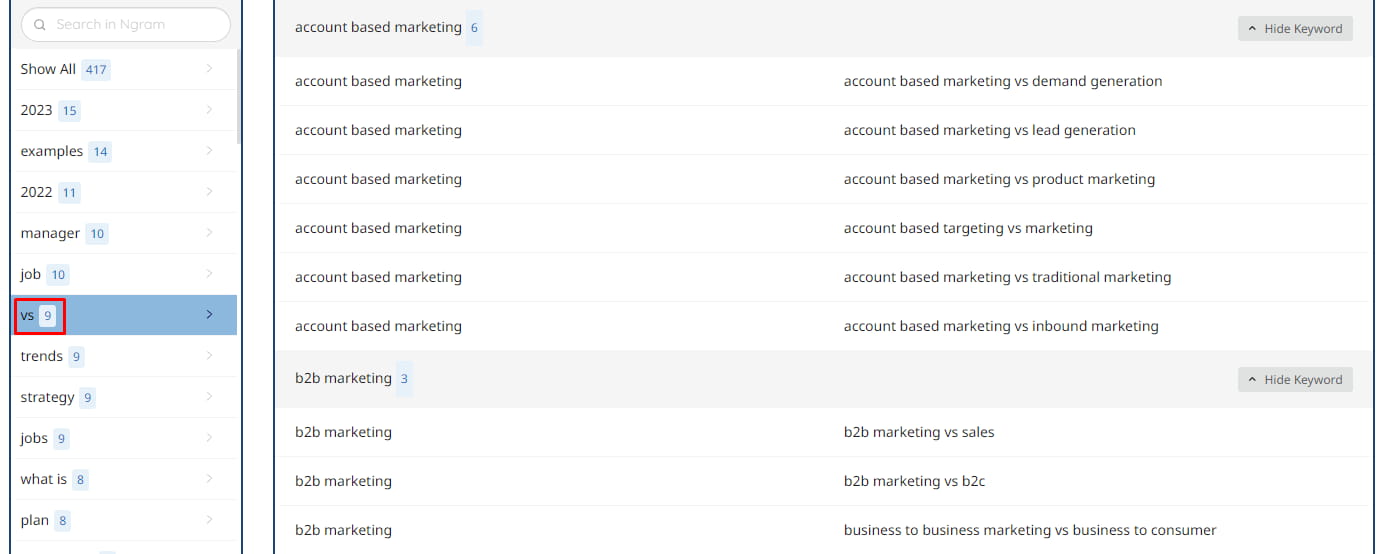 Moreover, we want to check all keywords because we don't want to miss an opportunity. Will we do it manually? No. We copied all the keywords to paste into the Keyword Grouping Tool. Keep reading.
⚠️ What do you use it for: keyword research for search intent.
Keyword Grouping Tool
Look at our huge keyword list we get from the Autocomplete Keyword Tool. Complicated? Yes. We just need to group them to make this list more meaningful. With this way, we can create our content strategy in a more effective way.
Grouping keywords and using them strategically in a hub or on blog pages will ultimately lead to better organic traffic rankings.
Paste your list. You can add up to 50,000 keywords.
Customize your grouping preferences. With a minimum cluster size, you can avoid keyword groups that contain too few keywords. If you put the granularity slider to the most right position, your keyword groups will be smaller and more granular.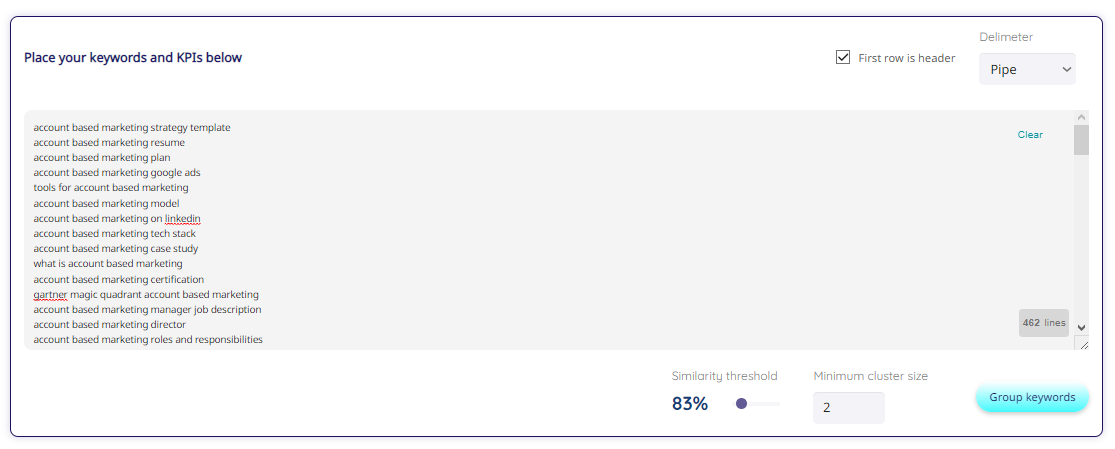 Export the results in grouping.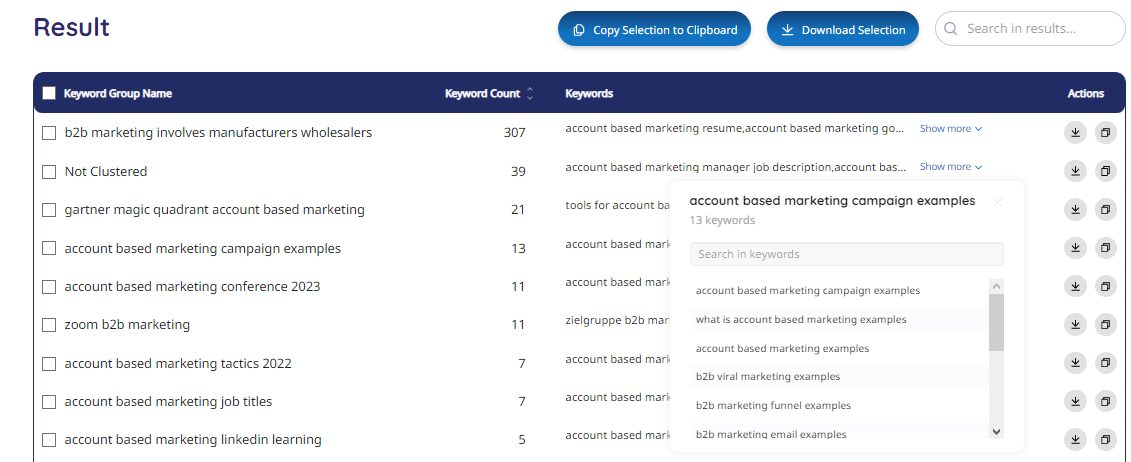 ⚠️ What do you use it for: keyword clustering to create better content strategy.
Sitemap Content Analyzer
A site's SEO performance is vital for that website's credibility and search engine authority. Otherwise, failure will chase you like a ghost. If you have good SEO performance, your rate of ranking will increase in the search result pages.
PEMAVOR's Sitemap Content Analyzer helps you improve your website's ranking by identifying your problems.
With this result, you can detect missing keywords. So you'll have the accurate data to develop a better SEO strategy. You can also compare a competitor's sitemap with yours to find topics. Then, you can write these topics to rank better in SEO.
Paste your sitemap link first, then competitors.

Click on Analyze N-grams.
Analyze competitor's content with Comparison of two websites column.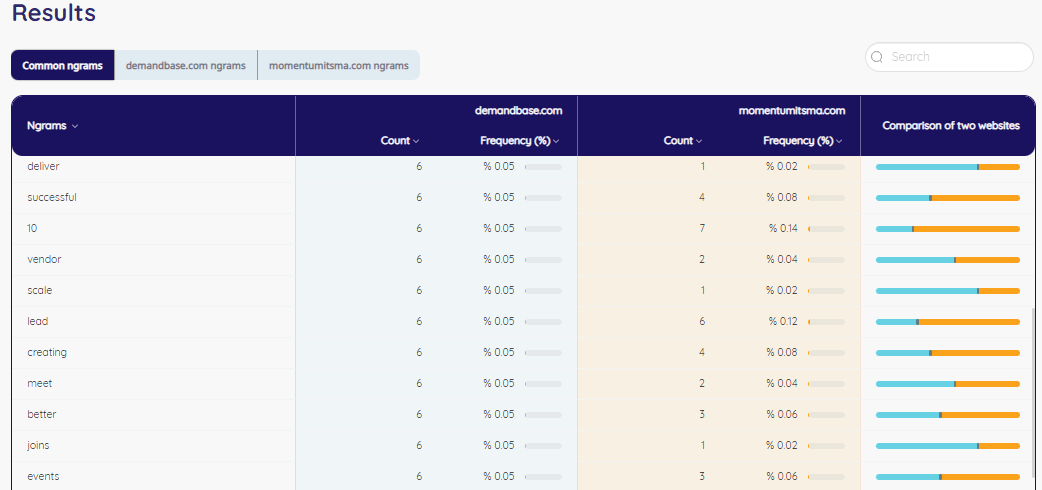 By comparing it with your competitor's sitemap, you can find essential content gaps. You'll see the most important keywords on the results page under the N-Grams section with counts and frequencies. Then, you can add these topics to your next strategic moves.
⚠️ What do you use it for: competitor analyzing, keyword research to find content gaps.
Keyword Topic Builder
This tool scrapes long-tail keywords from Google, Bing, and YouTube analytics to provide long-tail topics. Besides, it may help you to find the right keywords for your SEO and PPC projects.
Type your keywords and select English or Deutsch. Then, click on Suggest Keywords

Frequency sorts topics based on user searches. You can create your own keyword groups or upload external ones.
Pick different groups together. It'll help you discover long-tail keywords. Scroll down to see the other groups under the Topics section.
Sort these keywords by grouping them again under the "My Topic" column on the right.
Download your topic groups. And use the list to build a strategy for your next content.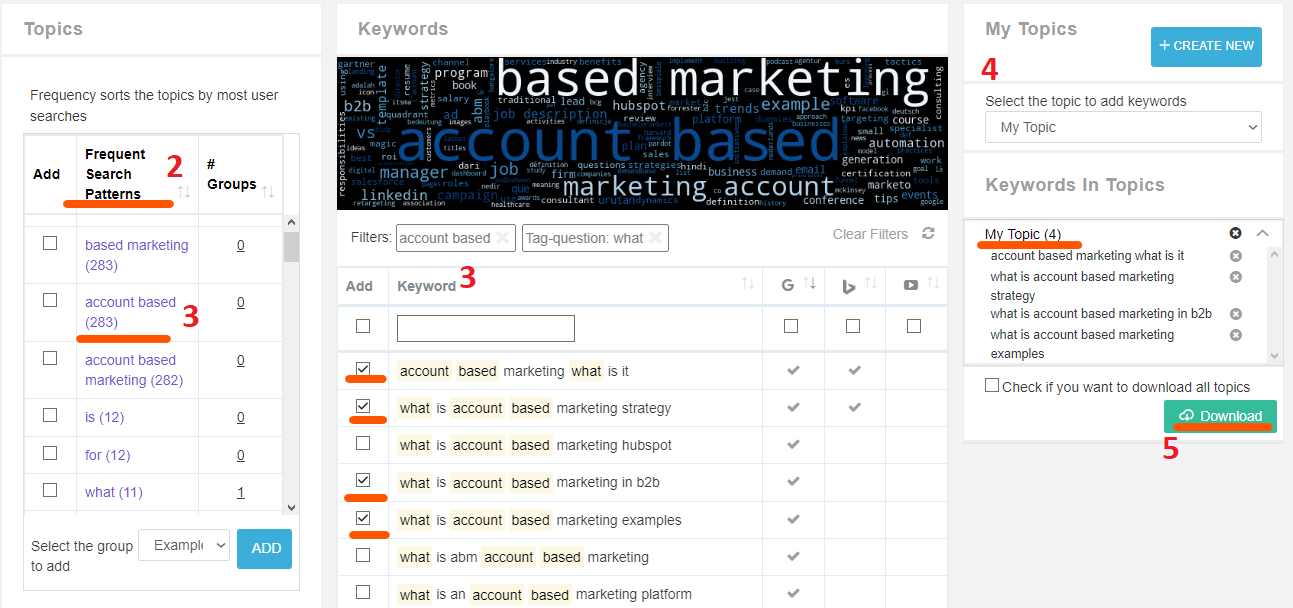 ⚠️ What do you use it for: discovering trending long-tail keywords and topics.
Keyword NGram Analyzer
Manually analyzing a massive keyword list kills your time and brain. Thus, you'll overlook a lot of important data. However, with this tool, you can analyze your keyword list, Google Search Console or Google Ads data in seconds along with KPI metrics (Impressions, Clicks, Costs, Conversions, etc.)
A deeper analysis can help you develop more pinpoint strategies. For example, let's say you've a result from this tool. If an N-gram costs a lot and conversion is zero, you can set that keyword as a negative keyword and remove it from your list.
Paste your keyword list and click on Analyze N-grams. You can paste up to 100,000 keywords with KPIs. However, in this use case, we get our keyword list from our Autocomplete Keyword Tool.

Create keyword groups based on frequent N-grams for different search patterns. Sure, results with calculated KPIs provide an advanced data study.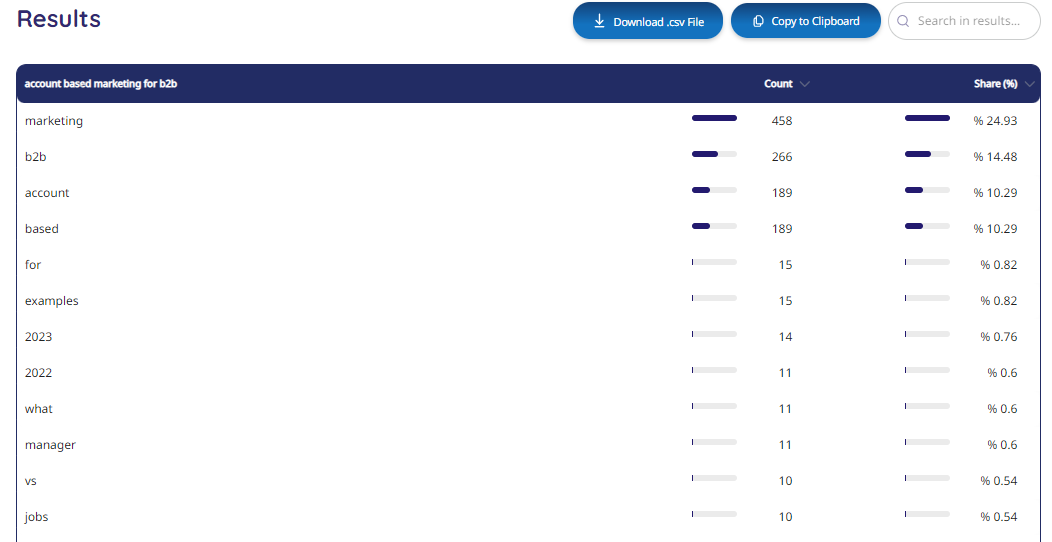 ⚠️ What do you use it for: deeper keyword analyzing, finding negative keywords.
Conclusion
PEMAVOR produces free tools for marketeers, content writers, and businesses. These always-free SEO packages can boost your website's ranking game, enabling you with powerful features and user-friendly solutions.
Looking for a unique solution?
We can generate SEO-specific scripts and tools for maximum impact. Write to us now.