Buyers (advertisers) and sellers (publishers) negotiated to display ads on specific websites. In old times, targeting ads and measuring performance took a lot of work because of the manual process. Besides, improving the campaigns and reaching the target was challenging—such a time-consuming and hopeless situation.
However, the digital media buying journey meets automation thanks to revolutionary programmatic advertising supported by machine learning and artificial intelligence. Therefore, It brings the right people through more accurate placements with advanced targeting and data-driven predictions. If you don't know enough about programmatic, read our "B2B programmatic advertising: Improve your business with efficient targeting" post first.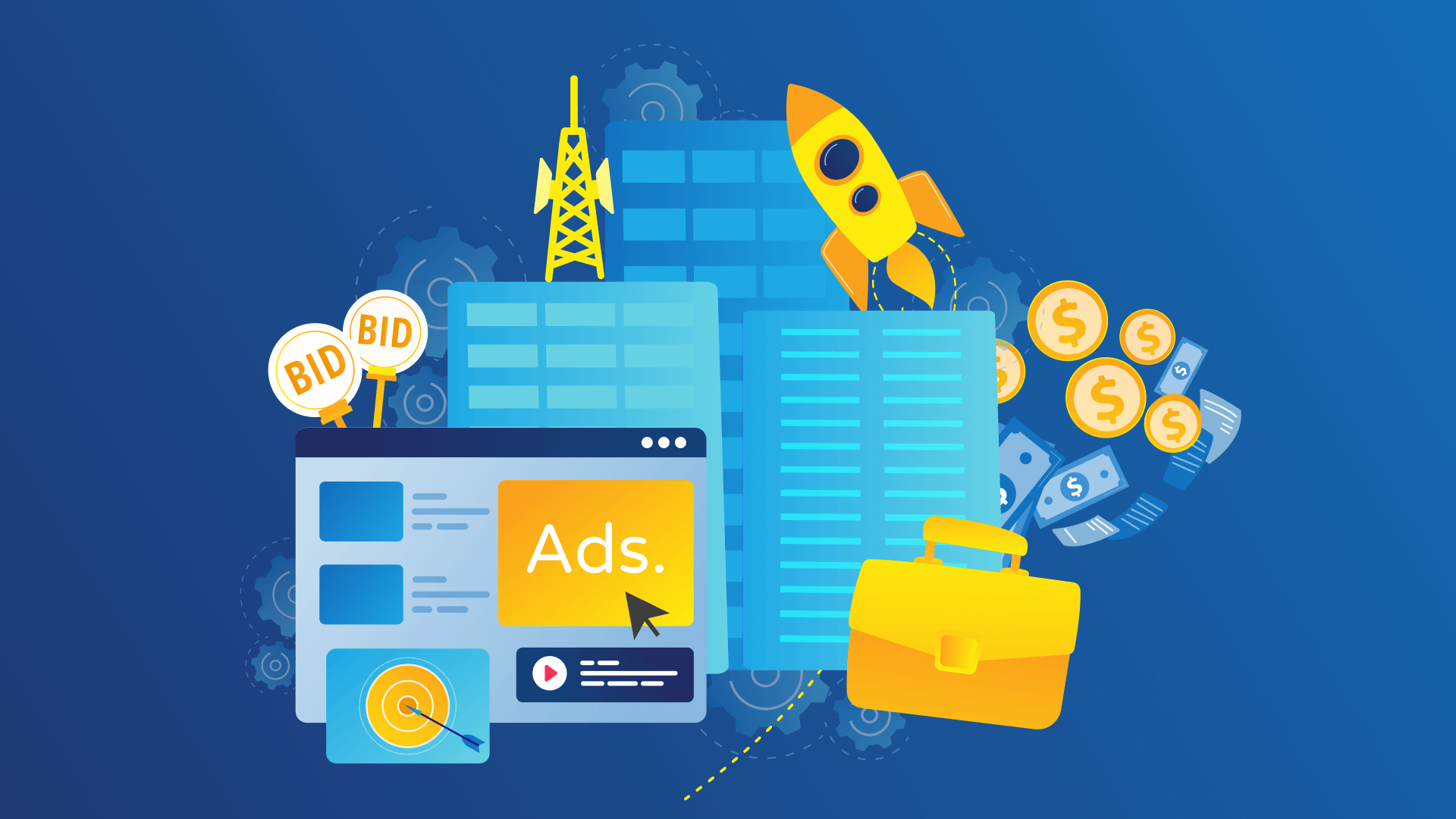 What are the benefits of B2B programmatic advertising?
Programmatic offers advertisers a variety of targeting options. This way, you can place your ads on relevant placements by targeting the right audience.
You can easily organize multi-channel advertising (multiple ad exchanges, ad networks, channels, and formats) through automation on a single platform. It'll save you a lot of time.
You can easily measure the performance of your campaigns in different channels through a single platform. With this valuable data of each ad in real-time, you can optimize your campaigns more effectively.
You can create personalized ads for different target audience segmentation. This way, customized advertising inventories will make it easier to reach their target audience. Plus, managing these campaigns will be super easy.
Data is one of the main components of programmatic marketing. It's collected, stored, and analyzed to maximize the alignment between buying and selling ads.
With artificial intelligence and machine learning, you can make data-driven decisions. You can negotiate prices when buying digital media and only pay for relevant impressions. It's a wise way to spend ad budget in today's digital marketing.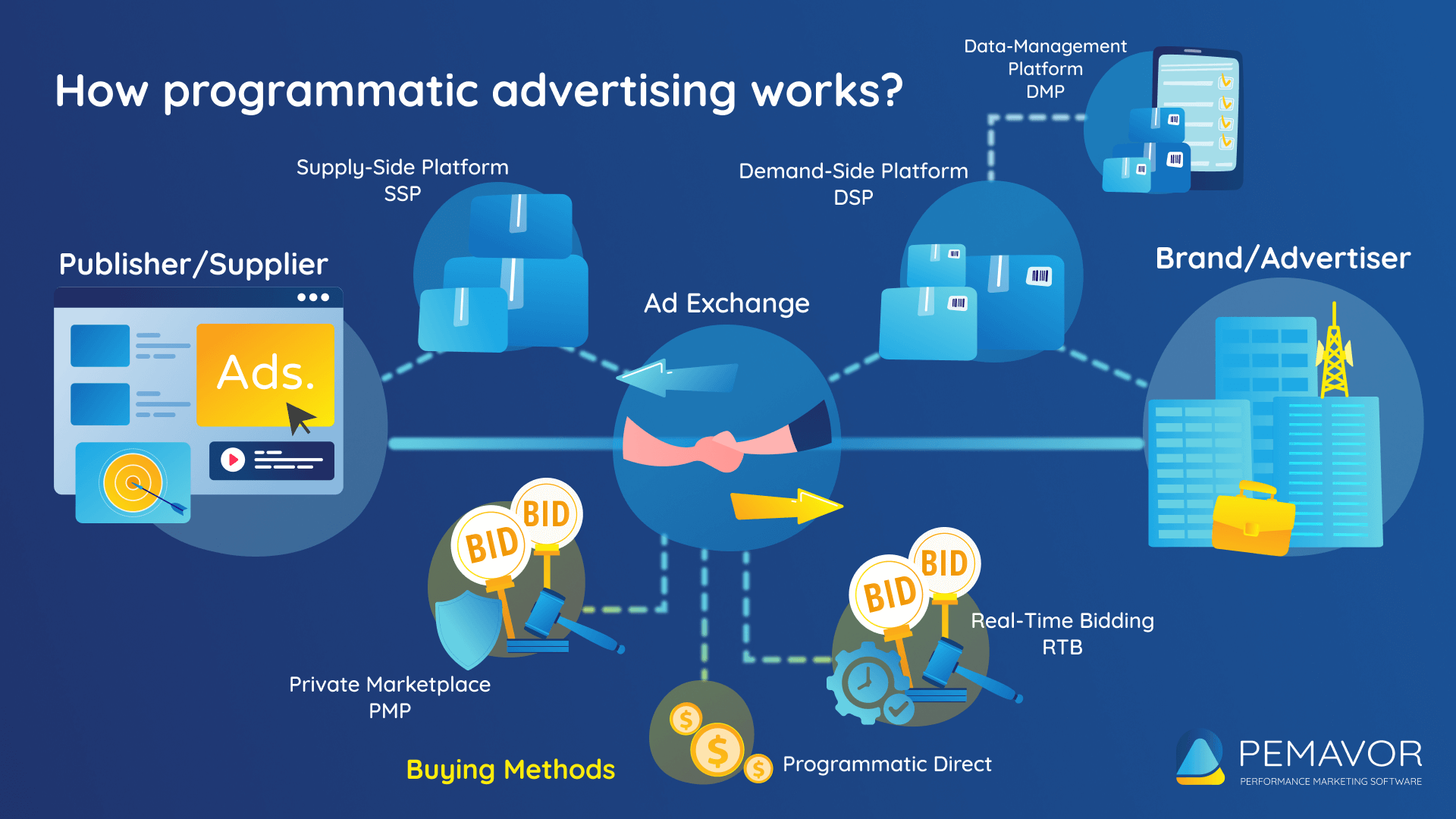 How to reach success in B2B programmatic advertising
In B2B companies, advertisers target a characteristic audience that includes a larger group. The sales process is more complex and longer because you have a group of people to convince. Moreover, intense competition and lack of valuable insight make this process even more challenging. That's why you should consider using B2B programmatic advertising to reach your sales target effortlessly.
The formula is clear: ideal target audience, real-time offers, and a data-driven approach. Then, you'll have a great result!
Nevertheless, there are several details for your sales team to run a successful B2B programmatic campaign. Let's check them out in depth. Paying attention to them will increase the efficiency of programmatic campaigns.
Plan and define a goal
The buyer's journey begins with a problem. The user discovers solutions and chooses one of them. On the other hand, corporate customers (B2B) reach a solution decision as a group. That's the complicated part of B2B marketing. So, you have to influence a group of buyers (decision-makers).
It's not impossible, sure. You need to go by the book. First thing first, understand your market and target audience (problems, desires, solutions, etc.). Then, you'll be ready to develop achievable goals and effective strategies.
Do your research.
Figure out your customers' purchasing behavior.
The goal must be specific, measurable, achievable, relevant, and time-bound (SMART) for successful results.
Work with the right technology partner
Various technology platforms offer different benefits for DSP (Demand Side Platform), DMP (Data Management Platform), or SSP (Supply Side Platform). These benefits and features may influence your programmatic campaign efficiency. Study these potential partners and choose the right one for your business.
Specifically, pay attention to targeting and transparency.
Automation is fantastic, but…
Programmatic advertising collects and analyzes data to create personalized campaigns through its algorithms. It looks at behavior, intent, and context to find the most proper buyers and sellers. Then, it automatically matches them.
Even though Programmatic makes marketing more manageable, it doesn't replace human control. For example, if your brand appears on a scam site, it could influence your brand's reputation.
Always check out the automation process.
Update your blacklists and whitelists regularly.
Monitor for ad fraud
Moreover, programmatic ad fraud can lead to large sums of money. Consider using ad fraud detection tools. Otherwise, the advertising budget may be wasted.
Stay alert to this risk and take precautions in time.
Measure your programmatic ad campaigns with KPIs
In addition, Programmatic allows you to test everything automatically. With A/B testing, you can determine which works best for different channels. Besides, Return on Investment (ROI), Return on Ad Spend (ROAS), and Click-Through Conversion (CTC) are the essential KPIs.
Always measure the metrics to understand campaign performances.
Programmatic vs. LinkedIn Display Ads
Does LinkedIn use programmatic advertising? Yes. LinkedIn displays advertising campaigns in real time using the same programmatic tools. This option lets you reach quality audiences at scale with high viewability. So, you can buy LinkedIn display ads programmatically. In the end, you'll have more control to reach your target audiences in a more data-driven way. Besides, B2B advertisers are confident in turning the audience into sales because LinkedIn is a highly engaged spot and avoids suspicious behavior with its login requirements.
Conclusion
To sum up, programmatic advertising lowers your efforts by eliminating manual processes and increasing efficiency. It makes ad buying effortless, targets the right people, and helps fine-tune campaigns. However, keep in mind the control over automation.
Need a custom solution?
We're building custom solutions for our customers. If you also need a fully-customized solution for your performance marketing strategies, talk to us now.