Remember the days when auctioning for ad spaces between publishers and vendors? We have already left manual processes behind. Now, the price of ad space is determined instantly and bought through real-time bidding. The short and long, customers' online behavior is now segmented using machine learning and data. It lets marketeers create unique ads to their audience compared to traditional media buying.
Today, we're going to talk about programmatic ads, which make up a big slice of the digital advertising pie.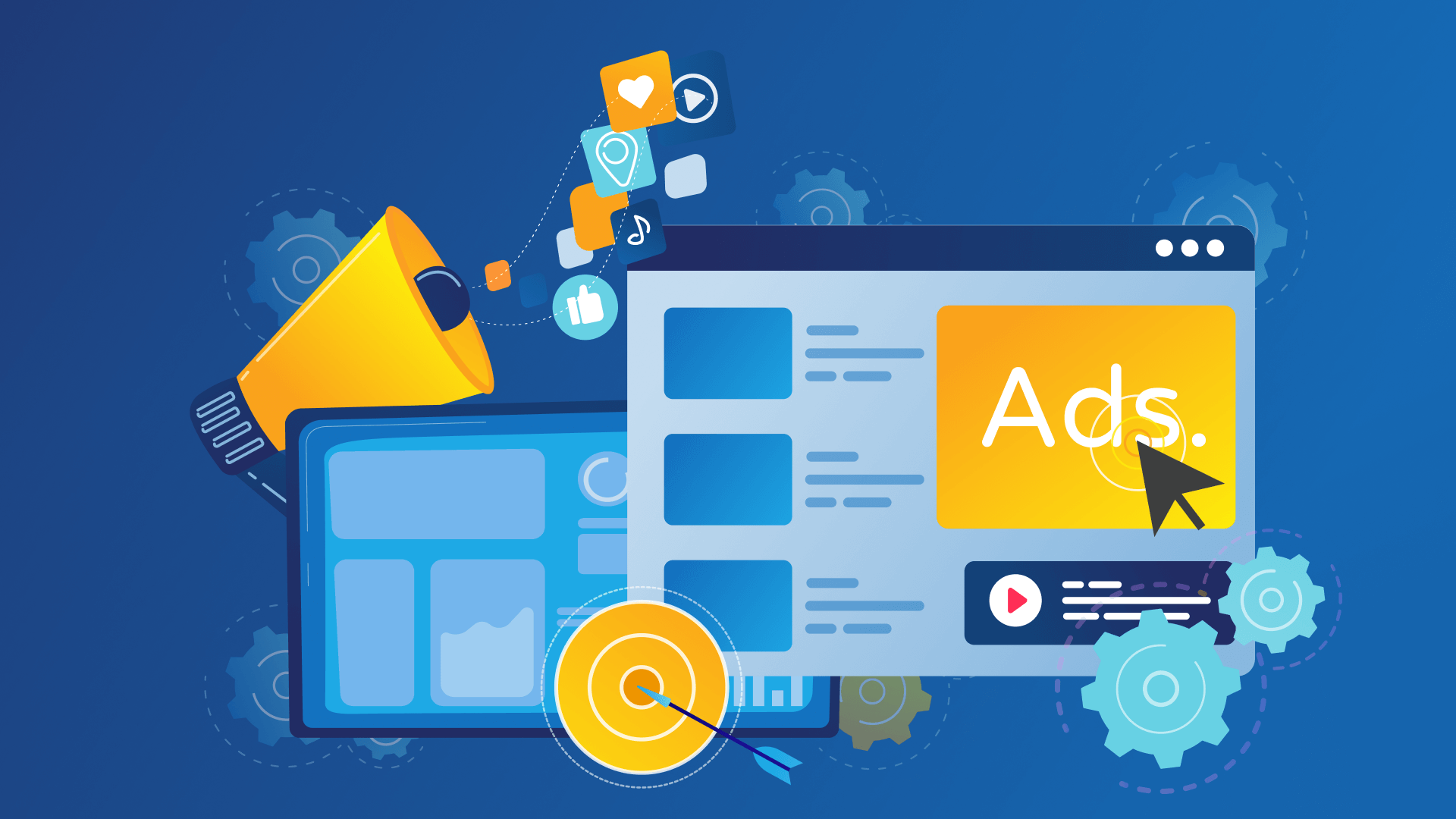 What is programmatic advertising?
Unlike old-school advertising, programmatic advertising is an automated ad-buying model powered by artificial intelligence and machine learning. It uses data and algorithms to deliver ads to the right user at the right time and at the right place. Thus, you spend your budget on ads buying in the best way. To do this, it analyzes many users' signals.
Programmatic vs. traditional advertising
Before programmatic advertising, advertisers were buying ad spaces from publishers, assuming some of their target audience visited their websites. However, they wouldn't know how many were actually interested in their ad. Now, with programmatic advertising, you can choose the exact audience for your ad.
Benefits of programmatic advertising:
Programmatic advertising uses real-time measurement and optimization for the best results.
Traditional media buying provides limited control on ad placements. On the other hand, with programmatic advertising, you can choose ad placements.
Advertisers can reach audiences based on various signals, such as shopping and browsing behaviors across different devices.
Buying and placing ads happens in seconds due to real-time bidding. Therefore, you can have more time to optimize your campaign.
Programmatic advertising minimizes the risk of ad fraud, reducing wasted ad impressions.
Advertising sales processes are speeding up so that the cost per unit becomes more affordable.
Most things become simpler for publishers, so there's no need for an additional department to sell ad spaces.
Challenges of programmatic advertising:
Relying just on algorithms isn't the right strategy. Sometimes, your ads can appear in irrelevant places. For this reason, make sure your blacklist is updated for inappropriate websites.
Once you start using programmatic advertising, you'll meet new terms and ideas. At first, they seem tricky, but it'll take time to understand them.
Why should B2B businesses use programmatic?
More and more B2B businesses today opt for programmatic because it automates the media buying. In other words, it can personalize the distribution of advertisements according to the target audiences. Thus, you can reduce your expenses with more pinpoint targeting. Some advantages of B2B:
You only pay for relevant impressions.
You can only purchase digital media from specific publishers.
You can manage all your ads through only one platform.
How programmatic advertising works?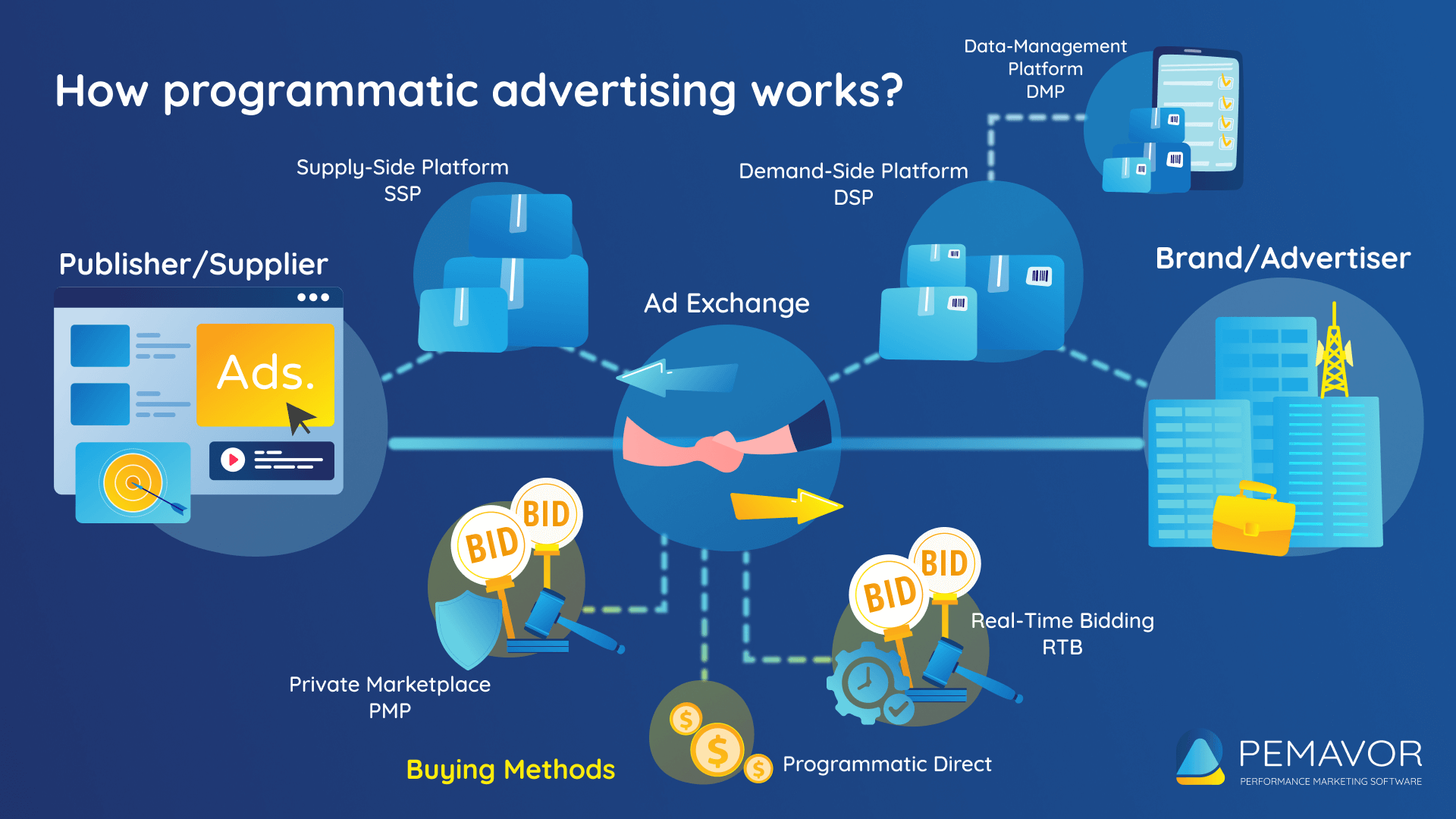 Main components of programmatic advertising:
Demand Side Platform (DSP)
DSP is software that allows advertisers to buy ad placements automatically. Besides, it allows advertisers to draft their targeting, budgets, and creativity in the platform. In the end, DSP uses its vast web network to find the best websites to display your ad to the right audience within your budget.
BrightRoll, StackAdapt, Yahoo Ad Tech, Display & Video 360 (Google), Adobe Advertising Cloud DSP, AdRoll, RhythmOne are some DSPs.
Supply Side Platform (SSP) or Sell-Side Platform
SSP is software that publishers use to connect their inventory to ad exchanges. Before programmatic, each publisher was responsible for reaching advertisers and selling ad space. This process has been automated with SSP software. First, it connects to an ad exchange. Then, it automatically displays ads from the highest bidder across available ad networks' inventories via real-time bidding (RTB).
Yahoo Ad Tech, Index Exchange, Xandr (Microsoft), Google Admob, OpenX, Amazon Publisher Services, Criteo, PubMatic are some SSPs for publishers. And, SpotX, DigitalTurbine, SpotX are for a video SSP.
Data Management Platform (DMP)
DMP is a data management platform created by categorizing user data. It allows advertisers to see KPIs for their customers and shapes advertising strategies.
Adobe Audiene Manager, Amobee, Google Marketing Platform, OnAudience are some DMPs.
Ad Exchange
The ad exchange is a digital ad-buying marketplace for advertisers and publishers.
PubMatic, Magnite, OpenX, Xandr, Verizon Media, Google Ad Exchange are some ad exchangers.
Buying methods:
Real-Time Bidding (RTB)
RTB is a way to buy and place ads based on automated auctions.
Programmatic Direct
It allows advertisers to buy a guaranteed number of impressions using artificial intelligence and machine learning technologies.
Private Marketplace
Only premium websites and well-known brands can access these marketplaces. Usually by auction, but the terms of the deal are predetermined. However, tt has a more manual process than RTB.
Types of programmatic platforms available
Video ads
Native ads
Digital Out-Of-Home (DOOH)
Audio ads
What is the difference between the Google Display Network (GDN) and programmatic ads?
Firstly, GDN is an ad network, focuses on the format of how ads appear. However, programmatic advertising is an automated ad-buying platform. Secondly, GDN's inventory comes only from Google AdSense. On the other hand, programmatic has a larger publisher network. Plus, programmatic ads have better targeting, so you can choose different publishers to reach different channels.
Types of programmatic targeting
Contextual targeting shows your ads on relevant websites.
Keyword targeting shows your ads, based on specific keywords. On another note, Keyword N-gram Analyzer and Keyword Grouping Tools can assist in finding effective keywords and grouping them.
With audience targeting, you can also target your ads based on the user's cookies rather than the context of a website.
Geo-targeting shows your ads only to customers in a specific location.
Retargeting attracts visitors who have already visited your website before. In this way, these users are more likely to purchase products/services. When a potential customer visits your website, a cookie is placed on their computer. So, you can retarget the user.
Step-by-step process of programmatic advertising:
Programmatic advertising strategies use automation to minimize the human mistakes.
Step 1: Publishers (website owners) offer their ad spaces to an ad exchange through an SSP. And, publisher websites analyze the users' profiles and send profile information and ad placements to a DMP.
Step 2: A SSP carefully analyzes all user cookies. It finds the best, most relevant advertisement for a particular user and forwards it to a DSP.
Step 3: The DSP reviews and evaluates the information from the SSP.
Step 4: The DSP sends a bid offer to the SSP.
Step 5: The SSP checks the bid, compares it with other bids, and selects the winner. Usually, the highest bid wins.
Step 6: The SSP presents the winning bid to the user on the website.
Need a custom solution?
We're building software solutions for our customers. If you need also a fully-customized solution, talk to us now.