Our monthly PPC post series provides the latest updates and insights in PPC (pay-per-click) advertising. Stay tuned for valuable tips and information to can drive your advertising success.
Google to experiment with ads that appear in its AI chatbot in search by Tech Crunch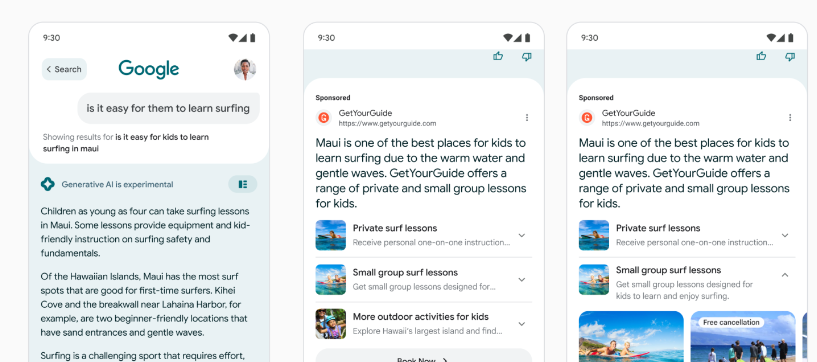 Google will test ads that appear in the AI chatbot within search results.
This feature aims to provide advertisers with more visibility and engagement opportunities by integrating ads directly into the chatbot's conversational experience. What do you think about the potential impact of this innovation on the ad environment and user experience?
Read on Tech Crunch
Google Ads adds 2 new campaign types by Search Engine Land

Google has introduced two new campaign types that cater to advertisers seeking more video views or increased demand.
These campaigns provide a broader reach across various Google inventory options. Additionally, the Lookalike segments feature assists advertisers in finding similar customers based on a custom-built Seed list. The flexibility to test different audience sizes allows advertisers to control and expand their reach.
Read on Search Engine Land
Google Marketing Live 2023: The 11 biggest updates you can't miss by Wordstream

What were the topics at the 2023 Google Marketing Live event?
Google discussed important announcements, product updates, and new features. Why should you care about these latest news? The improvements and insights will shape your strategic actions, sure. If you use Google as a marketing platform, you should stay updated. Therefore, you can stay one step ahead of your competitors.
Conversational experience in Google Ads
Automatically created assets using generative AI
Product Studio
Google Search Generative Experience
Video view campaigns
Demand Gen campaigns
Broad match Brand controls
Performance Max high-value new customer acquisition
Google Merchant Center Next
Google Analytics 4 audience builder
Performance Max improved search term insights
Read on Wordstream
5 Controversial Google Ads tips for small budgets by Zato Marketing

Say you run a small business and have a limited advertising budget. This means that you have to lag behind the benefits of Google Ads?
No, of course. Here are 5 tips that will answer your questions. The tips challenge conventional wisdom and offer alternative strategies for advertisers with limited budgets. Therefore, you can maximize your advertising effectiveness, resulting in higher conversions.
Targeting is more important than conversions
Primarily use search exact match keywords
Use manual CPC for bidding
Ad text is actually crucial for SMB PPC search
Ad scheduling is essential for limiting spend
Read on Zato Marketing
Are competitive spying tools worth it for PPC? – by JumpFly

Advertisers discuss the value of competitive spying tools in PPC (Pay-Per-Click) advertising.
What are the pros and cons of using such tools to gain insight into competitors' strategies, keywords, and name placements? The article provides an objective analysis to help advertisers decide whether investing in competitive spying tools is worth it for their PPC campaigns.
Read on JumpFly
How AI is set to dramatically change performance marketing by Aira

The transformative impact of artificial intelligence (AI) on performance marketing is still being discussed.
We've already experienced that AI can boost campaign optimization, audience targeting, and data analysis, leading to more efficient advertising strategies. Besides, these experiences and discussions shed light on AI's future in marketing.
Read on Aira
Meta announces generative AI features for advertisers by Tech Crunch

Meta announced an AI Sandbox for advertisers to generate variations of the copy for different audiences.
By strengthening its AI capacity, now advertiser can boost their ads effort. It'll save time, sure. Shortly, Meta aim to help advertisers create dynamic and personalized ad content at scale for Facebook or Instagram ads.
Read on Tech Crunch
7 Ways to hold off new & emerging competitors in Google Ads by Group Twenty Seven

Here are seven strategies to help advertisers withstand competition from new competitors in Google Ads.
These tactics help strengthen ad campaigns, improve targeting, and maintain a competitive edge. They guide advertisers in defending their market position in a dynamic advertising landscape.
Continually monitor competitor trends
Look for vulnerabilities and opportunities
Wait them out
Don't spread yourself too thin
Qualify your clicks
Flaunt your advantages
Have a strong post-click strategy
Read on Group Twenty Seven
Supercharging Search with generative AI by Google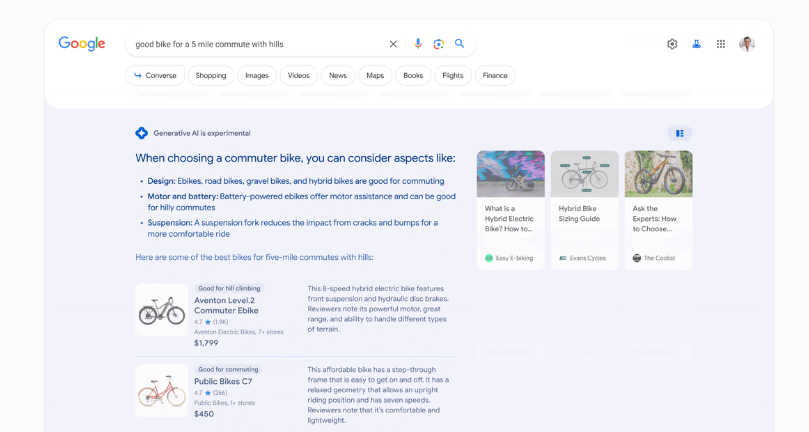 With AI chatbots, the future of search engines is also discussed because AI has already begun to shape the way users search.
Of course, search engines wouldn't lag behind in this competition. Google has already explored how AI can enhance the search experience by generating dynamic and contextually relevant search results. Besides, it also provides users with more personalized and comprehensive information.
Read on Google
Amazon working on AI tools to generate videos, images for advertisers by Search Engine Land

Amazon reported developing AI tools to generate videos and images.
These tools aim to assist advertisers in creating compelling visual content by leveraging artificial intelligence technology. Therefore, Amazon merchants can create photo and video assets for their campaigns. However, it's not clear when this feature will become available.
Read on Search Engine Land