AI chatbots are changing the way we search for information online. First, Chat-GPT impressed everyone with its capabilities since it became publicly available. Afterward, other companies have accelerated their work to secure their place in this game. And now, we have Google Bard, which we have been waiting for a long time.
Google's CEO, Sundar Pichai, introduced Bard on February 6th. According to his statement, the tool is an "experimental conversational AI service" that answers people's queries.
In this article, we'll explore the capabilities of Google Bard and compare it to ChatGPT.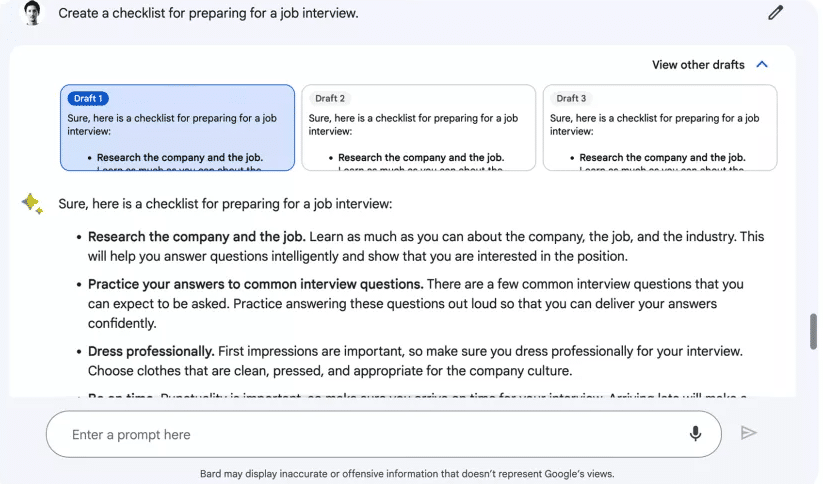 What is Google Bard?
Google Bard is an AI chatbot that uses natural language processing and machine learning to simulate human conversations. It's similar to OpenAI's ChatGPT, the most popular AI chatbot on the market.
Thanks to a set of deep-learning algorithms known as large language models, it's able to provide human-like responses to text queries. Google Bard was programmed based on LaMDA technology and introduced as a lightweight version of LaMDA in Google Search. Its performance will improve as it communicates with more users.
What can Google Bard do?
Google hasn't yet revealed what its AI chatbot is fully capable of. However, with its ability to sense context and understand intentions, Google Bard can provide personalized recommendations based on user queries. For example, it can suggest cooking recipes or tips for planning a party, depending on what your fridge stock.
Google Bard's failure
AI technology has been a key part of Google products development for years. However, users are turning to AI-powered chatbots for search queries also means that Google will lose more than anyone else.
Of course, Google has launched the Bard to avoid such a thing. Unfortunately, in Bard's preview demonstration, Google Bard shared the wrong information when answering a question about the James Webb Space Telescope's recent discoveries. This mistake tarnished its image. And consequently, Alphabet's stock dropped 8% percent in one day, causing shareholders to lose nearly $100 billion.
How can you access Google Bard? Who can use it?
Right now, limited "trusted testers" can try it out, but soon it'll be available to the public. Besides, you need to have a Google account and agree to receive Bard-related emails to use it.
If you want early access to Google Bard AI, click here and open the Bard waitlist page. Type in your email address. Then, you'll get an email to click on the "Yes, I'm in" button. How many people are on the Bard waitlist? It's unknown, for sure.
What is the difference between Google Bard and ChatGPT?
While Google Bard uses the Language Model for Dialog Applications (LaMDA), ChatGPT is based on GPT.
Google Bard is only available to "trusted testers" but is expected to be available to the public soon. ChatGPT, on the other hand, can be used by anyone.
Google Bard is free at the moment. ChatGPT is also free, but OpenAI recently launched its paid plan as ChatGPT Plus.
ChatGPT has its own plagiarism detector, the AI Text Classifier. This feature isn't yet available for Bard AI.
What are the benefits of Bard?
The Google Bard AI chatbot is powered by the search engine, but Google emphasizes that the AI chatbot isn't meant to replace search; it's a search feature. Bard product lead Jack Krawczyk says Bard is a collaborative AI service.
It can give human-like answers to your search queries.
It can find information to help you.
It can make a restaurant reservation or book a flight for you (and complete the purchase process).
It can be your personal AI assistant.
It's able to take real-time events into account when creating its answers.
It also gives you multiple answers.
It has a more user-friendly interface.
Read more: 5 helpful tools for detecting AI-generated content
Is Google Bard free of charge?
Google hasn't yet confirmed whether Bard will be paid or free. We assume that Google Bard won't be charged for daily users, but of course we can't know exactly.
What is the future of AI chatbots?
ChatGPT, New Bing. Now Bard, the new conversational AI chatbot search technology, is here. What's next?
The future of AI chatboxes is really exciting. They're becoming more sophisticated and are becoming an important part of marketing.
Of course, they'll soon be even more advanced. Natural Language Processing (NLP) makes it easier for chatbots to understand human speech patterns. With tailored responses based on user data and voice recognition technology for natural conversations, users will be able to interact with these virtual agents as if they were real people. As a result, they're even better able to provide helpful information quickly, leading to higher customer satisfaction.
There is no doubt that AI chatbots have a big role in our future when the continuous technological developments in this field is considered.
Would you like to integrate AI technology into your business?
If you're interested in AI for your business, we have several valuable posts. Besides, we're here to help you with custom AI solutions and developer support. Contact us now.